This free Mother's Day questionnaire makes the perfect Mother's Day or birthday gift for Mom,  or Grandma. It works great when done one-on-one at home or as an option in a classroom around Mother's Day.
This Mother's Day survey is great for kids of all ages and is sweet treat themed. It goes great with a cupcake or candy-themed craft or on its own. The fill-in-the-blank questions provide little ones with a chance to dictate answers or sound out words or phrases on their own.
To make this craft stand out, complete the fill-in-the-blank, color in the clip art (if printed in black and white), and mount it to a colorful piece of cardstock to make it sturdier. For more fun Mother's Day gift ideas be sure to check out this post with a fun handprint keepsake or these gift ideas for Mom.
Mother's Day Questionnaire Tips for Success
*If completing this Mother's Day questionnaire with preschoolers or younger you will need to have them dictate the answers. You can write exactly what they say for the most accurate and fun answers.
*If completing this activity with kindergartners and older you can have them sound out and spell the words and phrases to fill in each blank. If you are working with kindergartners you may need to add the correct spelling underneath to help Mom really know what it says.
This activity pairs great with books all about Mom. Read a Mother's Day book first and then have little ones brainstorm why they love Mom and what makes her unique. See some of our favorite books below.
*There are free templates for questionnaires for both Mom and Grandma. If you desire another name feel free to send me an email and I can switch it out with aunt, neighbor, sister, etc, and send it back.
This post may contain affiliate links and as an Amazon Associate and a member of other affiliate programs, I may earn a small compensation from qualifying purchases. All opinions and recommendations are my own.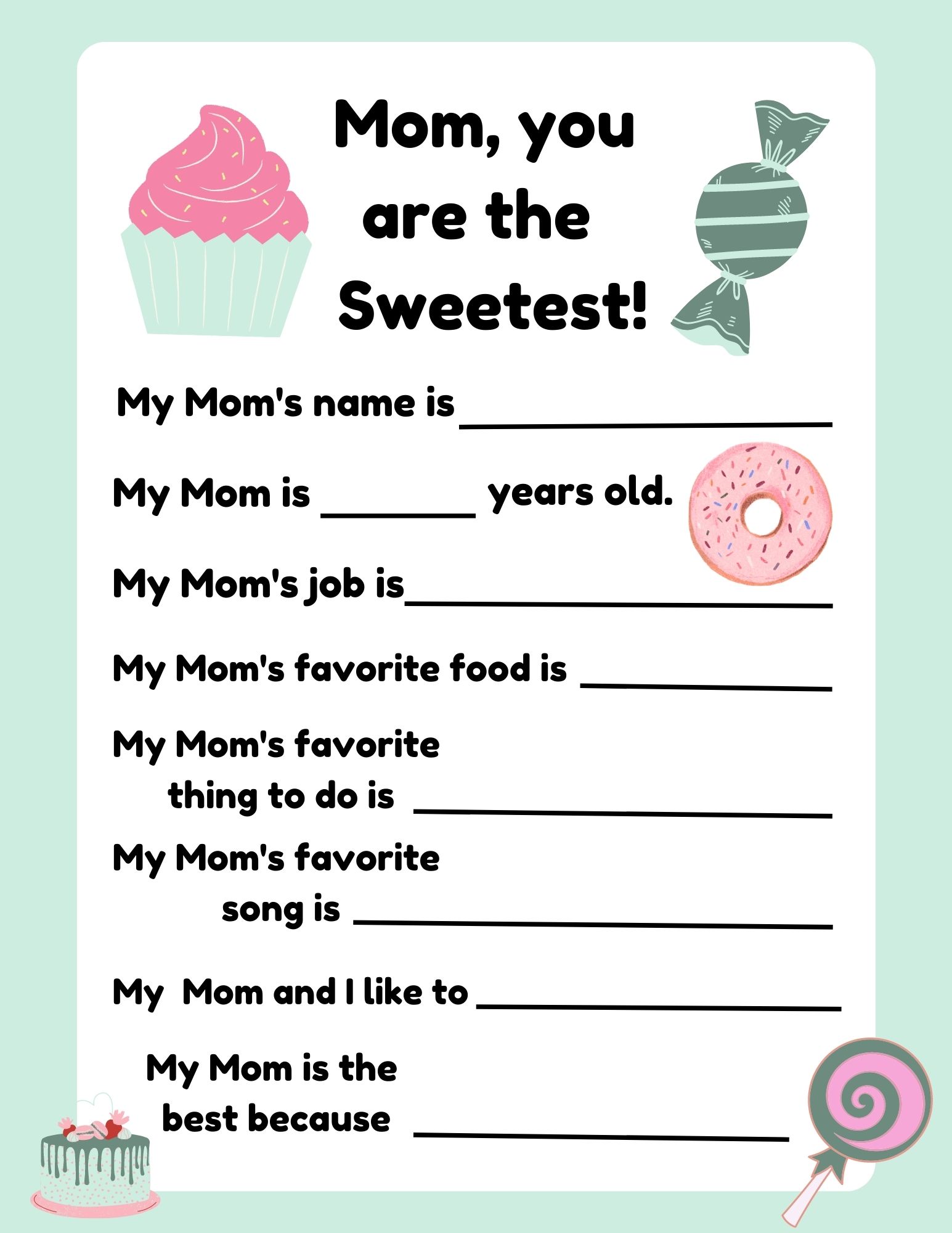 Mother's Day Questionnaire For Kids
 Materials
Free Mother's Day Questionnaire Template
9×12 inch cardstock or construction paper for mounting
Glue stick
Pencil
Crayons
Mother's Day Questionnaire Directions
Print out copy or copies of the free All About Mom fill-in-the-blank template. 
Have children dictate or write in the answers to the fill-in-the-blank questions about Mom or Grandma.
If printing in black and white have children color in the clip art.
Mount on pretty cardstock or construction paper.
Roll or fold up and tie with a ribbon or add to an envelope for additional presentation.
Give to Mom or Grandma for her birthday or Mother's Day.