This book themed sensory bin is the perfect sensory bin and literacy activity to go along with the book "If You Give a Mouse a Cookie." It is a great way to practice retelling a story as well as sequencing and putting a story in order.
To make this If You Give a Mouse a Cookie sensory bin you will need Cookie Crisp cereal, a bin or bucket, the below PDF and/or many of the items listed in the book. Some of these items include a straw, napkin, scotch tape, picture, crayons, paper, etc…
For other fun book play ideas be sure to check out these Hungry Caterpillar activities as well as this "The Mitten" themed sensory bin.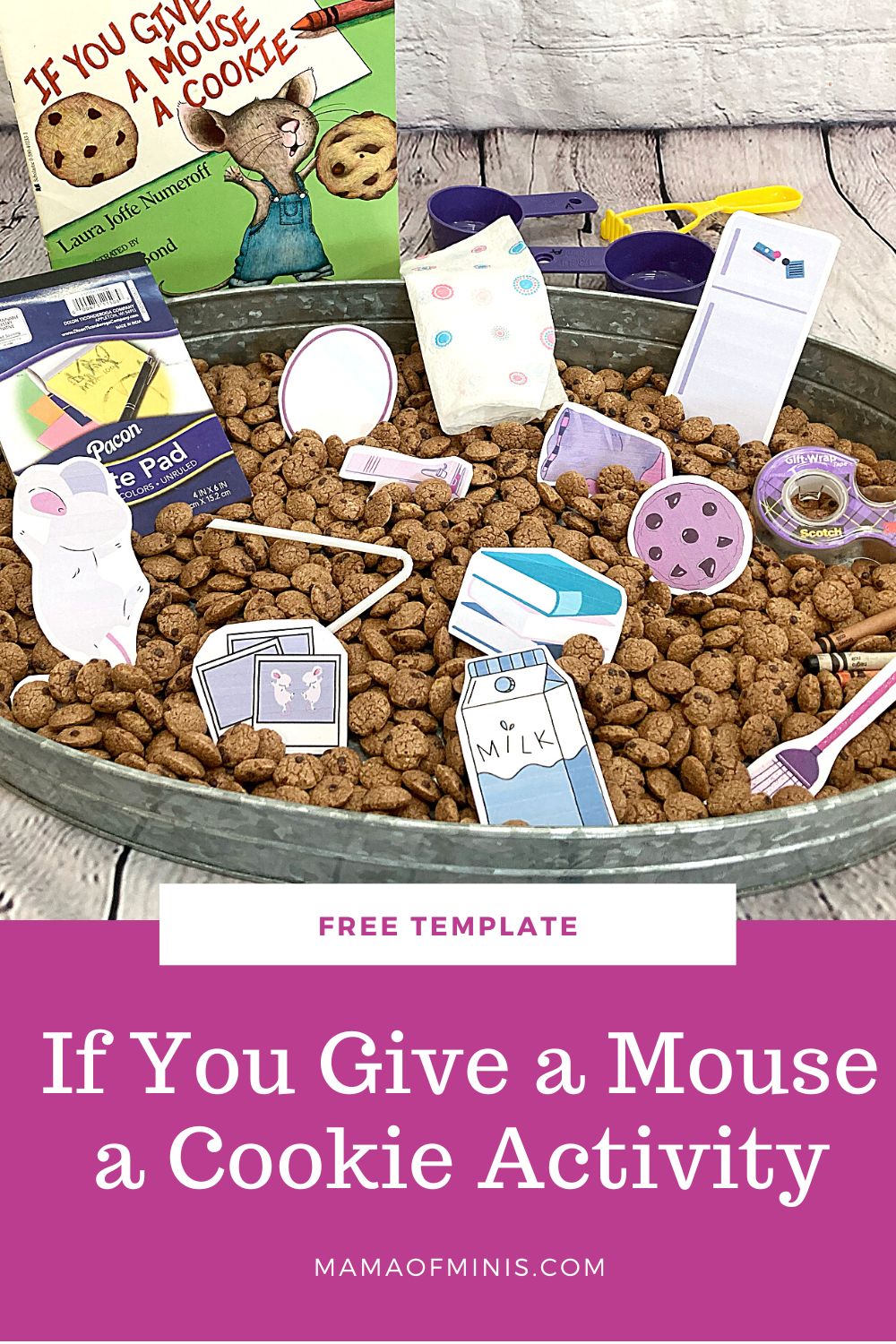 *This post may contain affiliate links and as an Amazon Associate and a member of other affiliate programs, I may earn a small compensation from qualifying purchases. All opinions and recommendations are my own.
If You Give A Mouse a Cookie Sensory Bin Set-Up Tips
To start the activity you can read the story "If You Give a Mouse a Cookie" by Laura Numeroff. Review the story after reading being sure to touch on the different items that the mouse requested and see if the children can even put the items in order  together.
Then create your sensory bin. Allow children to play and explore. The book can be left out near the sensory bin as well so little ones can reference back to the book and use it during their play if desired.
When setting up the sensory bin you can choose to use all paper (cardstock works best) pieces from the PDF, laminate the paper pieces to make them more durable, or use a mix of paper pieces combined with different items you have around the house that the mouse requested in the story.
The items that you may have around the house include a napkin, straw, cup (of milk), tape, crayons, paper/pictures. For the other items we would recommend adding only the paper version as the item itself may be unsafe (the nail scissors), or too large to fit in a bin (pillow, etc..)
When creating your sensory bin you can hide the PDF paper pieces underneath the cookie crisp pieces for a bit of a challenge and little ones can search and find them or you can set them on top for an easier bin.
I would also suggest adding scoops, cups, and spoons to add another dimesion to your sensory bin.
This if you give a mouse a cookie book themed sensory bin is perfect for children ages 1 and up as it is a taste safe sensory bin. It makes a great If You Give a Mouse a Cookie activity for preschoolers, kindergartners, and more. Children will love eating the fun cookie pieces!
If You Give a Mouse a Cookie Sensory Bin
 Materials
Bin/tub
Cookie Crisp cereal
PDF Template found below
 Misc Items listed in book

Crayons
Scotch tape
Picture/paper
Straw
Napkin
Etc…

Scoops
Spoons
Cups
Activity:
Begin by filling the tray half way to the top with Cookie Crisp (depending on your tray size)

Cut out the PDF images from the book and nestle them in the Cookie crisp.

Add in any additional items like a straw, crayons, napkins, etc…that are listed in the book and are small enough to fit in your bin.

Add scoops, spoons, and cups.

Allow children to play, retell, and explore.