This simple tutorial will show you how to make Chia seed sensory play slime using only 3 ingredients. It is simple to make, great for sensory play, and super slimy and fun.
This Chia seed slime is great for kids of all ages beginning as early as 1 and up. It is a taste-safe sensory play base for babies and toddlers and is perfect for making fun sensory play trays.
This fun taste safe Chia seed slime can be made in any color and made to match any holiday if desired. It takes 5 minutes to prep (although needs some time to expand in the fridge) and is so easy to throw together.
For other fun sensory play bases be sure to also check out these fun DIY cloud dough and super fluffy bubble foam recipes.
*This post may contain affiliate links and as an Amazon Associate and a member of other affiliate programs, I may earn a small compensation from qualifying purchases. All opinions and recommendations are my own.
What are some ways to play with chia seeds?
Chia seed slime is so fun to play with and can be made to match any theme desired. Here are some fun ways for chia seed sensory play.
Make chia seed slime in rainbow colors. Have children mix, pour, and combine it all together. Add in rainbow sensory play items and have them color match.
Make chia seed slime in holiday colors. Add in things like plastic spider rings, play pumpkins, & dollar store skeletons and bats.
Add chia seed slime in bulk and use it to play with on a hot day outdoors.
Create a chia seed pond with blue-dyed chia seeds. Add in plastic water animals and fish and have children act out ocean scenes.
Hide plastic or resin letters in dark colored chia seed. Have children hunt for the letters and pull them out. They can match them to an aplabet chart or put them in order once finished.
Mix chia seed slime with other fun bases like sensory sand, playdough, etc…and set up whole landscapes for children to play with.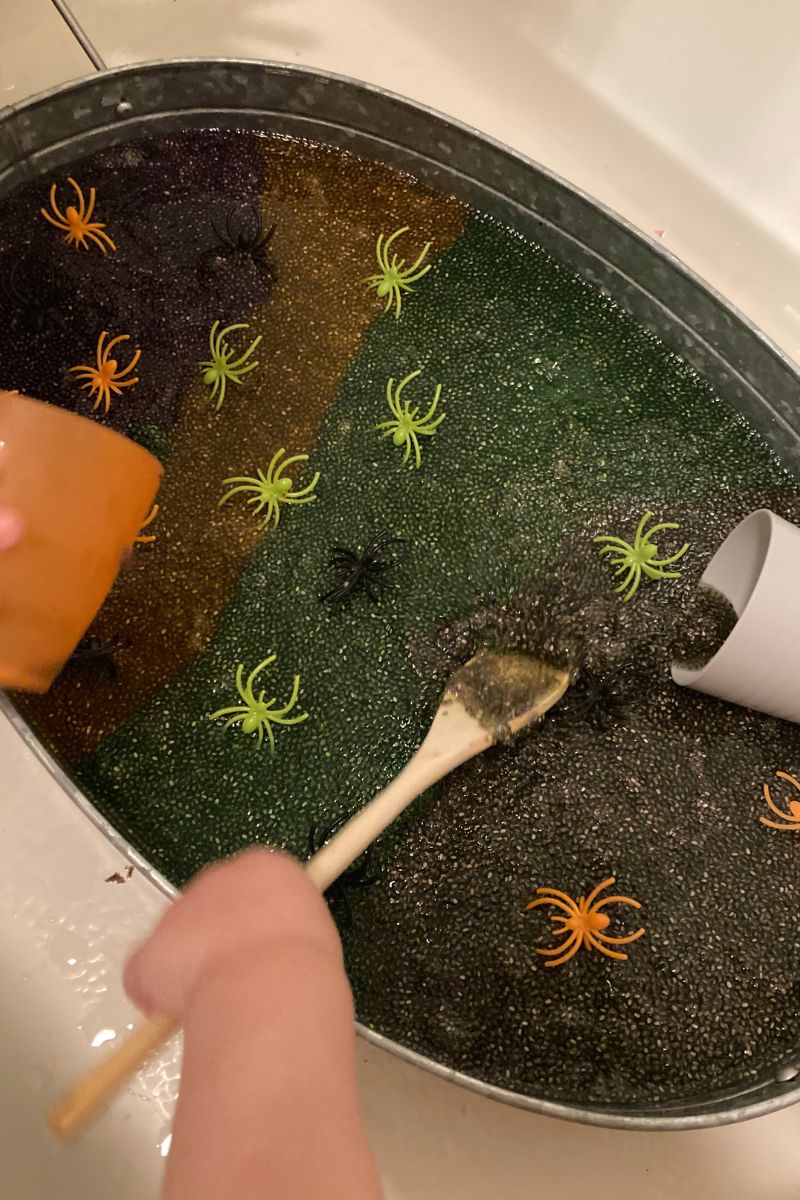 Are chia seeds safe for sensory play?
Chia seeds make a great safe alternative to water beads. They are completely taste safe and even babies can play with them. They do not taste like much when combined with water but as long as there are no allergies little ones ages 6+ months and up will love playing with them.
*Be sure to mix the chia seeds with water before playing as they can be a slight choking hazard for little ones if eaten dry.
Is Chia Seed Sensory Play Messy?
Yes, chia seed sensory play is very messy. Chia seeds will stick to clothing, carpeting, and most things around. I would advise you to take your chia seed sensory bins outdoors or into the bath tub to do them. This will help make cleanup a lot easier.
Another thing that will help with cleanup is to remove your little ones clothing before playing with it so they are just wearing a diaper. For older chiildren have them roll up their sleeve legs (and pant legs) and wear a bib of some sort to help with cleanup.
How long will Chia Seeds made for Sensory Play last?
Because it is a food item, I wouldn't recommend using your sensory play chia seeds more than a few times or longer than a few days.
After the first time of use they may become dirty or filled with bacteria from dirty hands. This makes them no longer taste safe for babies when using multiple times. 
For older children you would be fine to reuse this sensory base for 1-2 days max (if refrigerated), before getting rid of it and making new slime.
Chia Seed Sensory Play Slime Recipe 
Materials
1/4 cup chia seeds (for brighter colors use white chia seeds)
2 cups water
Food coloring (optional)
Activity:
Add 1/4 cup chia seeds, 1 3/4 cups water, and 10-20 drops of food coloring to a container.
Stir it all together until the color is evenly dispersed. Some chia seeds will float on the top.
Repeat this process with as many containers as you would like colors.
Add containers to the fridge and let sit for at least 3 hours.
Pull containers out of the fridge and pour chia seed slime into a large bin.
Add in seasonal items like plastic spiders, plastic ornaments, resin letters, plastic animals, and more.
Add in scoops and spoons and allow children to play and explore with this fun texture.