This tutorial will show you how to make bubble foam for sensory play. This is an activity that is great for kids of any age starting as early as age 1. You are never too old to play with bubbles!
This activity uses a few simple ingredients and can be set up in many different ways to make it new and engaging each and every time. It is a great way to cool off on a hot day, a fun way to play at bath time, or a great activity for a rainy day.
When you make foam bubbles, they are great for use in a water table on a hot day. Simply whip up a batch (using one color or many different colors), and empty them into the water table. Add scoops, buckets, and even hide some plastic, waterproof toys in the bubbles and they will keep kids busy for a long time!
Another way to use bubble foam is to create bubble foam with a theme and use it in a sensory bin. Scroll down for directions on how to create a bubble foam beach sensory play bin. Here is an additional list of ideas to help you create more fun with bubble foam:
Mix up a few different colors and swirl them together with some sequins and glitter to make unicorn foam.
Dye bubble foam red, blue, and white(uncolored) to make a 4th of July themed sensory bin. Add pipe cleaners for fireworks.
Dye bubble foam all of the different colors of the rainbow and pour them together in order to make the rainbow and work on colors.
Use red, blue, and yellow bubble foam to practice color mixing and help learn which mixed colors make which colors.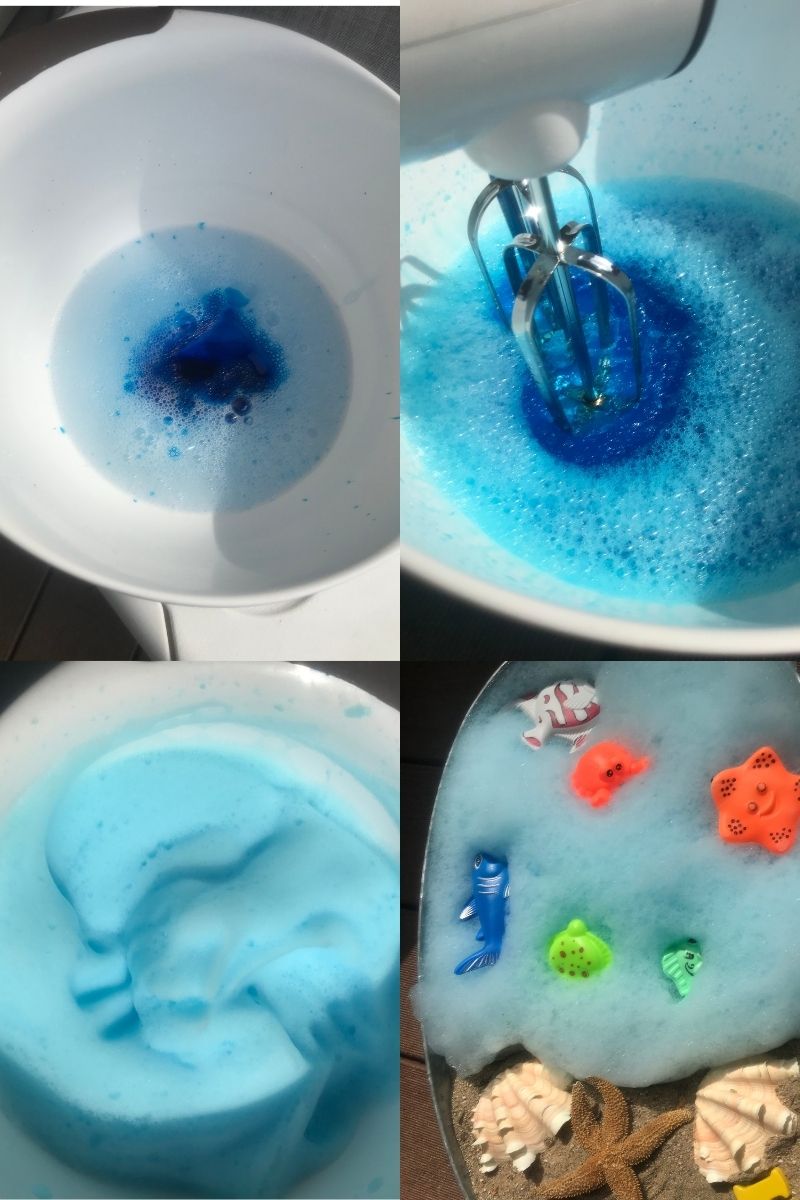 Bubble Foam Beach Sensory Bin
For this sensory bin, you will need to make blue bubble foam using the recipe below. You will also need a large bin, sand, seashells, and plastic fish/sea animals. If you would like a literacy connection as well you can also use plastic letters to spell out the word beach as well as beach-themed books.
Begin by filling half of your bin with sand. Insert your seashells and letters to spell the word beach into the sand. Make your bubble foam and dye it blue for the water. Pour it into the empty side of the bin.
Add fish to the top of the bubble foam (or hide them inside for a search and find activity). Then add scoops and various buckets for play.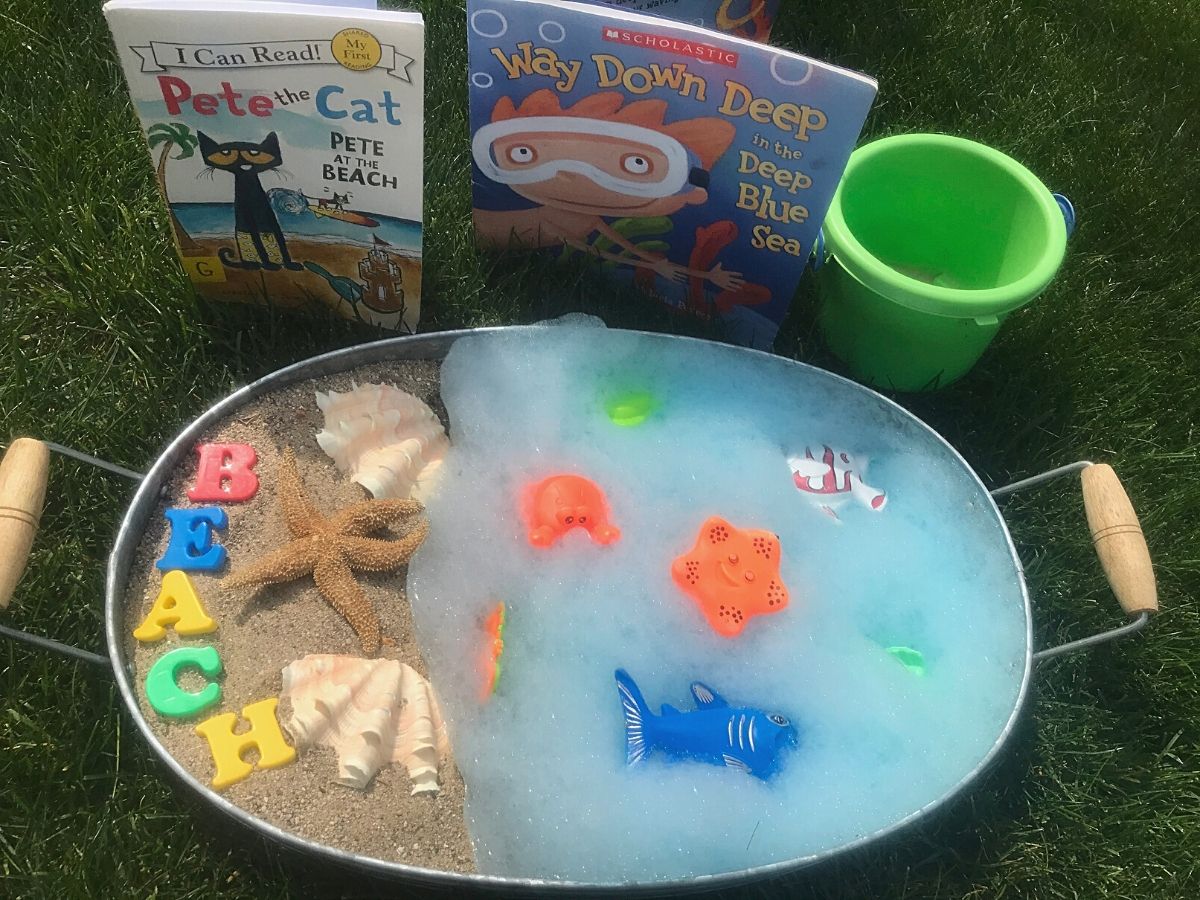 Materials
Large mixing bowl
 Scoop/ladle
Hand mixer or immersion blender
Dish soap
Water
Food Coloring
Optional Sensory tub/bin or water table
Activity:
Add 1/4 cup dish soap, 1 cup warm water, and 6-12 drops of food coloring in a desired color to a large mixing bowl.
Insert hand mixer into the colored soapy water and turn to high power. Blend for 2-3 minutes until large bubbles/peaks form.
Use a large scoop or ladle to move completed colored bubbles to your sensory bin or water table.
Repeat process with remaining water left in the bowl.
If desired, repeat the whole process with a different color (or same color) food coloring until you have the desired amount of bubbles.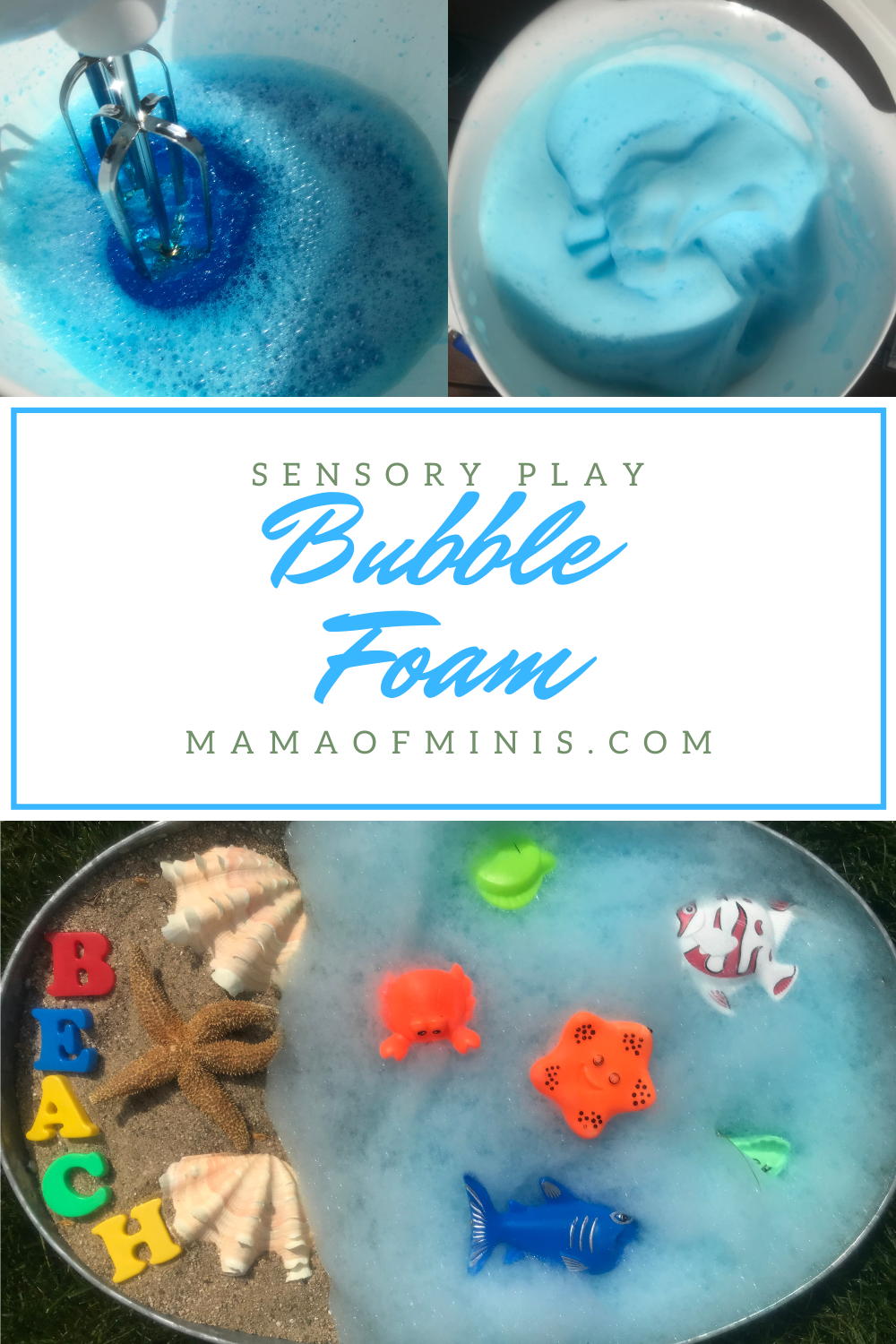 Here are some of the books I'd recommend to go along with the beach-themed sensory tray as well as the sensory tools we love to use with our many different sensory trays.
Also, if you're looking for other fun sensory play ideas be sure to check out my farm sensory play tray or spring sensory bins as well!