This chocolate pretzel bark is the perfect easy treat for your sweet tooth. It is made with dairy-free chocolate chips, gluten-free pretzels, vegan butter, and more. It only takes about 15 minutes to throw it all together and tastes amazing!
Simply heat brown sugar and vegan butter to make the caramel toffee, pour it on top of crunched-up pretzels, cook, and melt chocolate chips on top. Sprinkle it with sea salt and you have the most amazing toffee pretzel bark.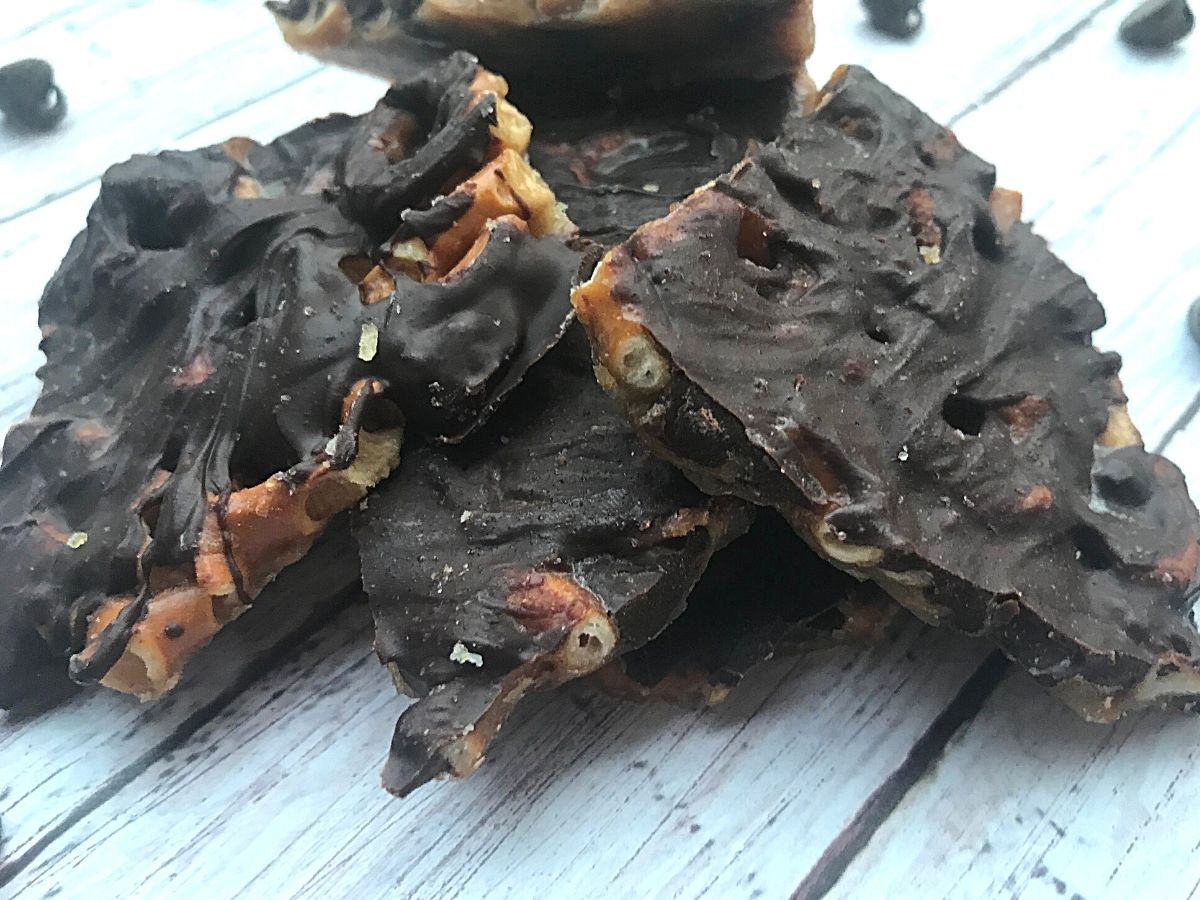 This chocolate pretzel toffee bark is the perfect homemade gluten and dairy-free candy to bring to just about any event. I've brought it to showers, cook-outs (where it can be kept in a refrigerator until time to serve), and dinner parties. It is even a great treat to put in plastic decorated bags and give out for a Christmas treat or birthday treat.
This is also a great treat to eat while relaxing and watching tv once the kids have gone to bed. The hardest part is stopping eating it once you've started!
My favorite recipes are ones that I can make in the kitchen while my toddler looks on and helps. This one doesn't disappoint. Crushing pretzels up onto the tray kept my toddler occupied for a long time. She was also able to help measure out the butter and sugar as well as break the toffee candy up into pieces once it was hardened (and of course help me lick off the spoons!)
Tips for Success
*For this recipe, I used Snyders gluten-free pretzels. I crunched up the pretzel pieces to make them smaller. This way you also get more pretzels in each bite. You are able to substitute any other brands of gluten-free pretzels or wheat-based pretzels as well and the recipe will still turn out great.
*My favorite brand of chocolate to use is Enjoy Life dairy-free chocolate chips. I have also used Costco's Kirkland brand dairy-free chocolate chips (make sure you read the ingredients because they make two different Kirkland brand chocolate chips and one of them is not dairy-free). You should be able to substitute any brand of chocolate chops in place of these.
Be sure to cook the vegan butter/brown sugar mix for an additional three minutes, stirring occasionally, after it starts to boil. This will ensure that the mixture starts to caramelize but doesn't burn.
Toffee Chocolate Pretzel Bark (Gluten and Dairy Free)
Prep Time:
10 total minutes
Cook Time: 5 Minutes
Chill Time:  1 hour
Ingredients:
3/4 bag (6oz) gluten-free pretzels 
1 cup (2 sticks) dairy-free butter (I use Country Crock Plant Butter)
1 cup packed brown sugar
1 cup dairy-free chocolate chips
sea salt
Directions:
Preheat oven to 375 degrees.
Line a standard cookie sheet with foil. Spray the foil with cooking spray.
Crush gluten-free pretzels into smaller pieces and fill the tray with one even layer of them, making sure they don't overlap as best as possible. Set aside.
 In a small saucepan over medium heat, combine dairy-free butter and brown sugar, stirring occasionally. 
Bring butter and sugar mixture to a boil. Once boiling, set a timer and continue to cook for 3 minutes. 
Remove from heat and immediately pour caramelized sugar mixture over the pretzels. Cover as much as possible, however, if there are small spaces and holes left uncovered this will be fixed in the next step. 
Insert the tray into the preheated oven and cook for 5 minutes. 
Remove from heat, turn off the oven, and immediately sprinkle chocolate chips over the top of the toffee pretzel mixture. 
Insert the tray back into the turned-off oven but keep the oven open. The heat will soften the chocolate. Leave in the warm oven for 2 minutes. 
Remove from the oven and use a spatula to smooth the chocolate over all of the pan.
Sprinkle with sea salt if desired. 
Let cool on the counter for 30 minutes. Then stick in the fridge for an hour+ (or the freezer if you are impatient and want to eat it sooner). 
Once it is cooled and chocolate is hardened, remove the pan from the fridge and break it into small pieces. Peel any remaining foil off of the back.
Serve immediately after removing from the fridge. Store any remaining pieces of toffee candy in an airtight container in the fridge. 
As you can tell dessert is a favorite in our house. I am a firm believer that you should have dessert after every dinner (and lunch too)! Probably not the most healthy habit but it sure tastes great!
For some other delicious gluten and dairy-free dessert ideas be sure to check out these peanut butter chocolate cereal bars and/or homemade peanut butter cups. Both are super easy to make and some of our favorite recipes!