This super easy crockpot dairy-free buffalo chicken dip is the perfect dip for the big game, a family gathering, or a game night with friends. It is absolutely delicious, gluten and dairy-free, and so easy to make. You can eat it served with gluten-free tortilla chips as a snack or you can eat it served on top of a baked potato for dinner. It is so versatile and has quickly become a recipe I make often at our house.
My husband is a big football fan and always has loved the traditional dips and snacks for the big games. The majority of these dips are loaded with dairy and I struggled to find any good chip dip recipes that were gluten and dairy-free.
My go-to's for the football games became chicken wings (check out my brown sugar teriyaki chicken wings) and guacamole. These things are delicious but I needed to switch things up after weeks of the same big game foods. That's when I decided to do some modifying to the classic buffalo chicken dip that is loaded with dairy and cheese. This recipe is what we ended up with.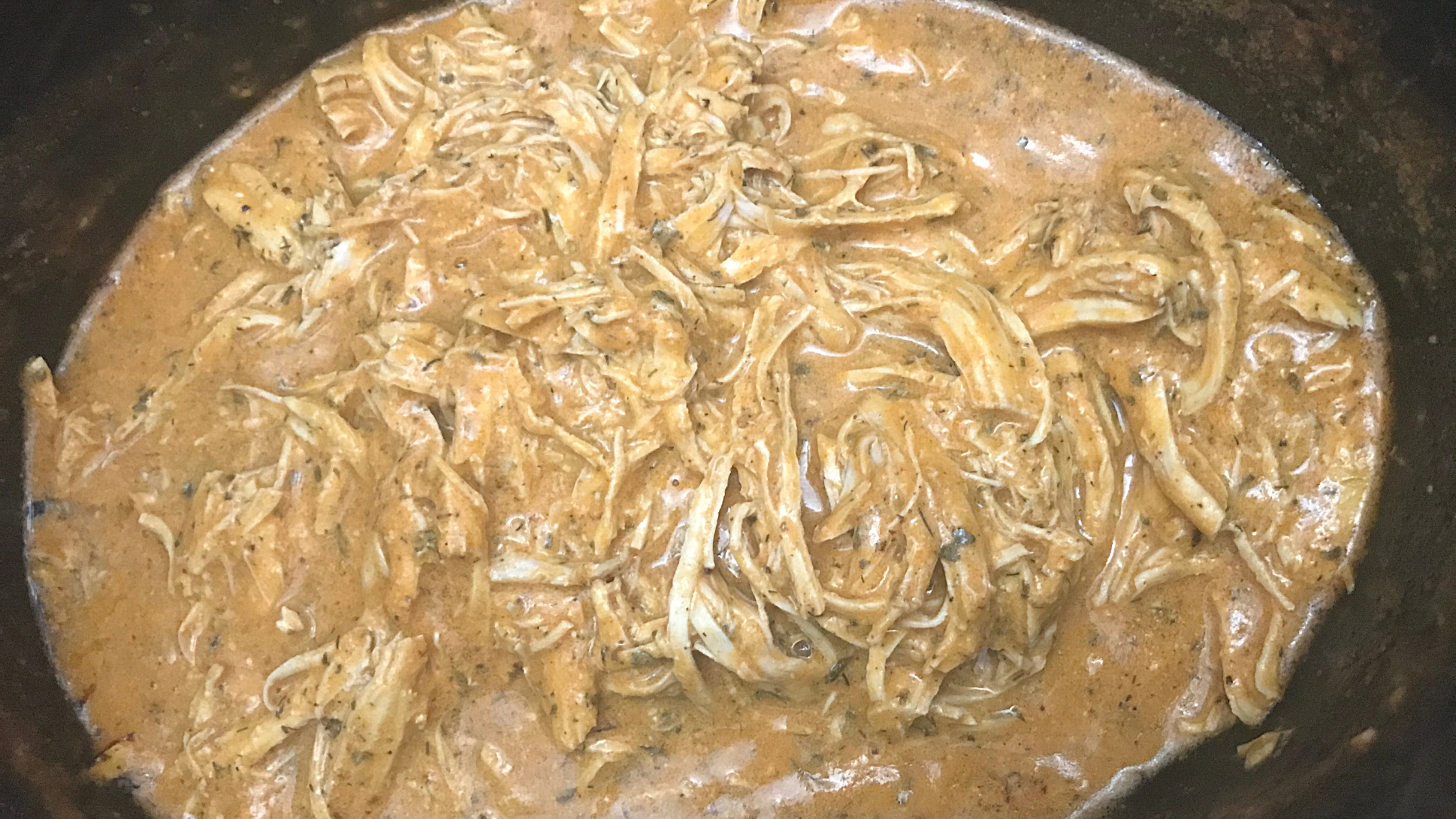 Tips to making the recipe:
You will need to use a dairy-free sour cream substitute. My favorite for this is Silk plain almond milk yogurt. You will also need a dairy-free cream cheese substitute. We buy Daiya dairy-free cream cheese but any dairy-free cream cheese should also work. 
I like to make this recipe with chicken breast that is frozen to begin with. You can just throw the chicken breast right out of the freezer into the crockpot. This is my favorite way to make it as we often buy our chicken in bulk and freeze it. I am terrible at planning ahead and pulling it out the night before so I love that I don't have to with this recipe.
*Pro-tip for shredding chicken once it is cooked: Pull it out of the crockpot and put it in a bowl. Turn the mixer on low and insert it into the bowl with the chicken. Mix it until shredded up. You end up with perfect shredded chicken and it is so quick and easy!
Crockpot Dairy-Free Buffalo Chicken Dip
Prep Time:
20 total minutes
Ingredients:
½ cup almond milk yogurt (Silk brand is our favorite)

½ cup mayonnaise

¾ cup Frank's Red Hot Sauce

½ tsp paprika

1 tsp parsley

1 tsp dill weed

1 tsp garlic powder
1 tbsp lemon juice
4 oz dairy-free cream cheese (Daiya brand is our favorite)
1 lb chicken breasts
Directions
Whisk the almond milk yogurt, mayonnaise, Frank's Red Hot Sauce, paprika, parsley, dill weed, garlic powder, and lemon juice together in a bowl to make the buffalo sauce.

Add chicken breasts to the crockpot. 

Dump the mixed-up buffalo sauce over the chicken in the crockpot and turn the chicken over in the crockpot once or twice to cover it in the sauce. 

Set the crockpot and cook on low for 6-8 hours or on high for 3-4 hours. Chicken will be cooked when there is no remaining pink and it shreds easily.

Remove the chicken to a separate bowl and shred it with a mixer or forks. Return it to the crockpot.

Stir the cream cheese into the crockpot until it all melts and covers the chicken in a creamy sauce.

Serve with chips or on top of a baked potato.