This dairy free cashew alfredo sauce is super easy to make, comes together quickly, and includes both vegan, and gluten-free options. It is a much healthier alfredo sauce recipe, made without butter or cream, and it is filled with lots of protein.
The cashews are boiled on the stovetop and all the ingredients are thrown together in the blender to make the creamiest dairy-free sauce.
You can easily customize your meal to include vegetables, different kinds of pasta, or different kinds of meat as well. Our favorite way to eat this cashew sauce is on top of gluten-free fettuccine noodles. We top it with grilled chicken for the perfect meal but you can also eat it without chicken for a delicious vegan dinner.
Tips for Success:
This meal comes together in about 35 minutes including cook time. It is a hands-off meal that you can simply check on the pieces once you've got them started. 
Begin by preparing the cashews. Bring water to a boil. Throw the cashews in the water once it is boiling and reduce the heat to a simmer. Simmer for 30 minutes. This will soften the cashews so that the sauce is much creamier. Do not skip this step or your sauce will not turn out. 
Another option to prepare the cashews is to soak them in water for 24 hours before blending. This will also soften them up. However, you really need to plan ahead if you choose to go this route.
While the cashews are boiling, cook noodles according to the directions on the box. You can use any kind of noodles. We like to use gluten-free fettuccine noodles as my husband has a gluten intolerance.
We like to eat this meal with chicken so once noodles have started, season the chicken breast with olive oil, garlic powder, salt, and pepper (or seasonings of choice). Throw on the grill or stovetop and cook until internal temp reaches 165 or chicken and chicken is no longer pink in the middle.
*This can be made vegan by simply omitting the chicken and making with vegetable broth, or making it with tofu instead of chicken.
Once the cashews are softened you can begin to make your sauce. Simply throw all of the ingredients for the sauce in the blender including the cashews, and blend until smooth and creamy. 
Plate your meal by putting down noodles, then add the desired amount of sauce on top. Top the whole thing with grilled chicken (and any vegetables if desired) and you are ready to serve. 
This is a very versatile meal and the sauce tastes good with many different options. We love that we can customize it and make it different each time (although we do stick with our main go-tos often). So delicious, quick, and easy to make.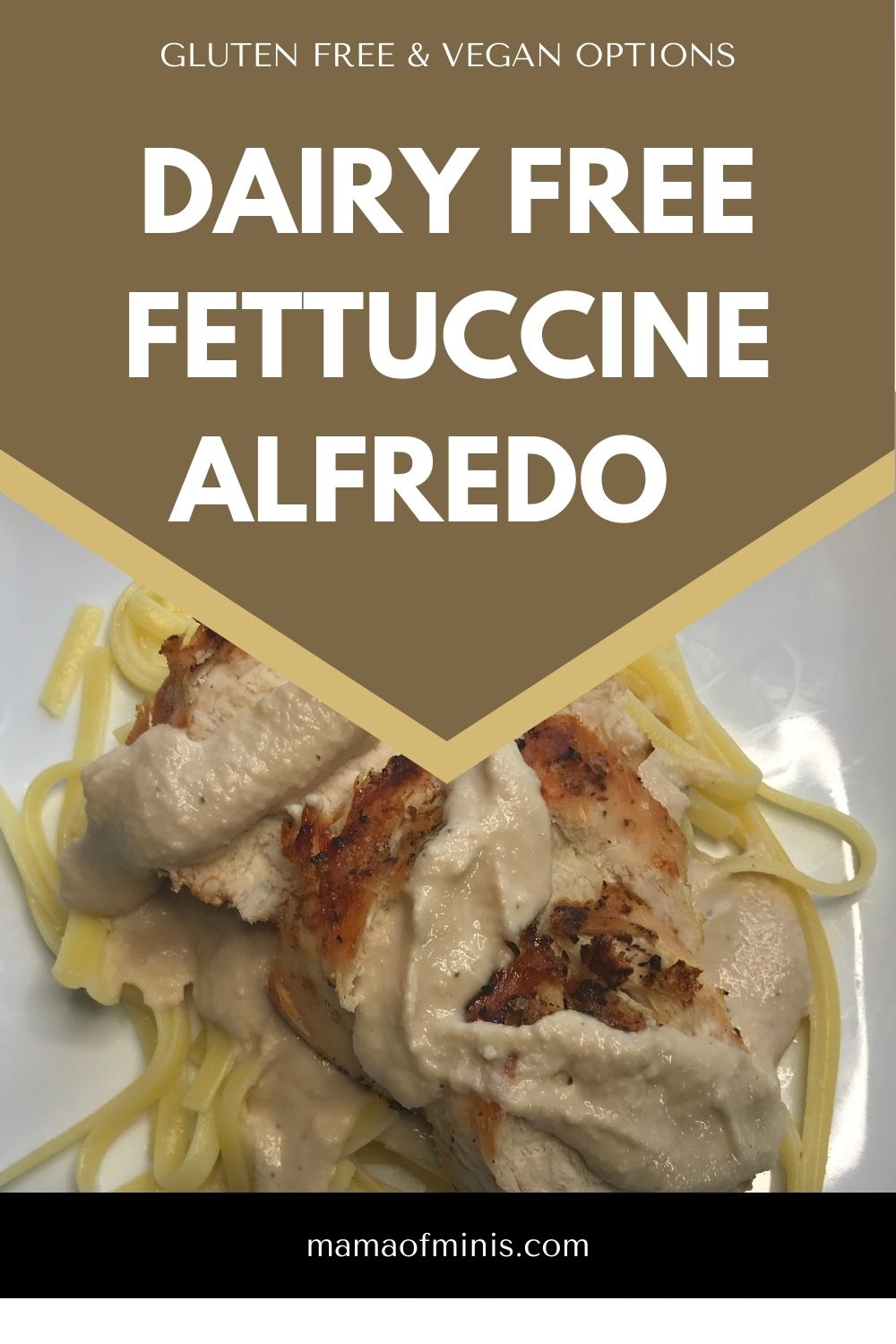 Dairy Free Cashew Alfredo Sauce
Ingredients:
1 1/4 cup raw unsalted cashews
1/2 cup chicken broth (vegetable broth if making vegan)
1/2 cup unsweetened almond milk
1 1/2 tsp lemon juice
3 tbsp minced, fresh garlic
1/2 tsp black pepper
1/2 tsp salt
*Optional – fettuccine noodles and grilled chicken
Directions:
Bring water to a boil and add cashews. Turn the temperature down to low and simmer for 30 minutes.

While water is simmering cook noodles according to package and season and grill chicken if desired.

After 30 minutes, remove cashews from heat and drain water.

Add all the sauce ingredients including cashews to a food processor or blender.

Blend until smooth.

Remove from blender and serve on top of noodles. Top with your grilled chicken.