These gluten-free strawberry lemonade cupcakes are the perfect treat for a warm spring or summer day or the perfect pink Valentine's day cupcakes. They are a great way to use all of those fresh strawberries after going strawberry picking or when they are on sale at the store. They taste like strawberry lemonade in a cupcake form and are so good!
The nice thing about this frosting is that it is can be both bright yellow color or a simple pink if you choose to add food coloring. So if you are looking to make your cupcakes into a spring theme you can pipe them to look like chicks or flowers. If you are looking for a more summer theme you can pipe them into suns. Or you can just go the traditional route and top with a strawberry slice and/or pink striped cardboard straw.
Read on for directions on how to make these delicious homemade strawberry cupcakes and lemon frosting.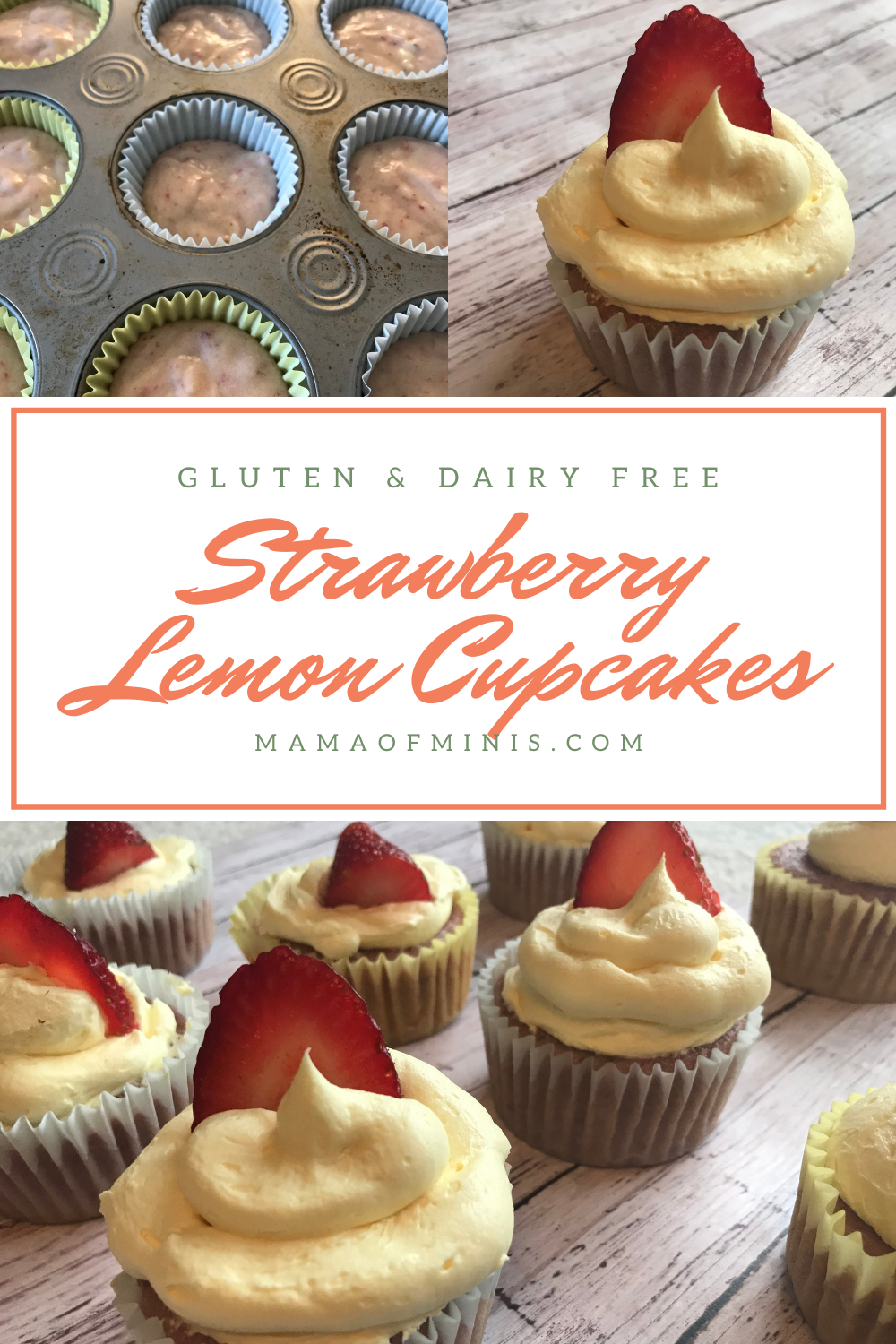 Tips for Success
*Fresh strawberries work best in this recipe. Make sure to wash and cut the green leaves off. Then cut them in half before pureeing them.
*When using a gluten-free flour make sure it's a 1 to 1 gluten-free flour blend. I used King Arthur Blend in this recipe and it worked great. If your gluten-free flour doesn't include xanthan gum make sure you add this as well.
*Make sure to use good vegan or dairy-free butter. The one that we like best in our baked goods is the country crock plant butter.
*To create the buttermilk add 1 tsp lemon juice to the milk and let it sit for a few minutes until it starts to curdle. Then add it to the batter.
*Do not overmix the batter or it will not turn out right. Be sure to just mix the strawberry puree in and then stop.
*Fresh squeezed lemon juice gives the best taste in the frosting but you are also able to used bottled lemon juice. They both work great and it is still delicious. Add lemon juice little by little to ensure that you are able to pipe your frosting better.
*Cupcakes should be stored in an airtight container in the fridge after baking and cooling.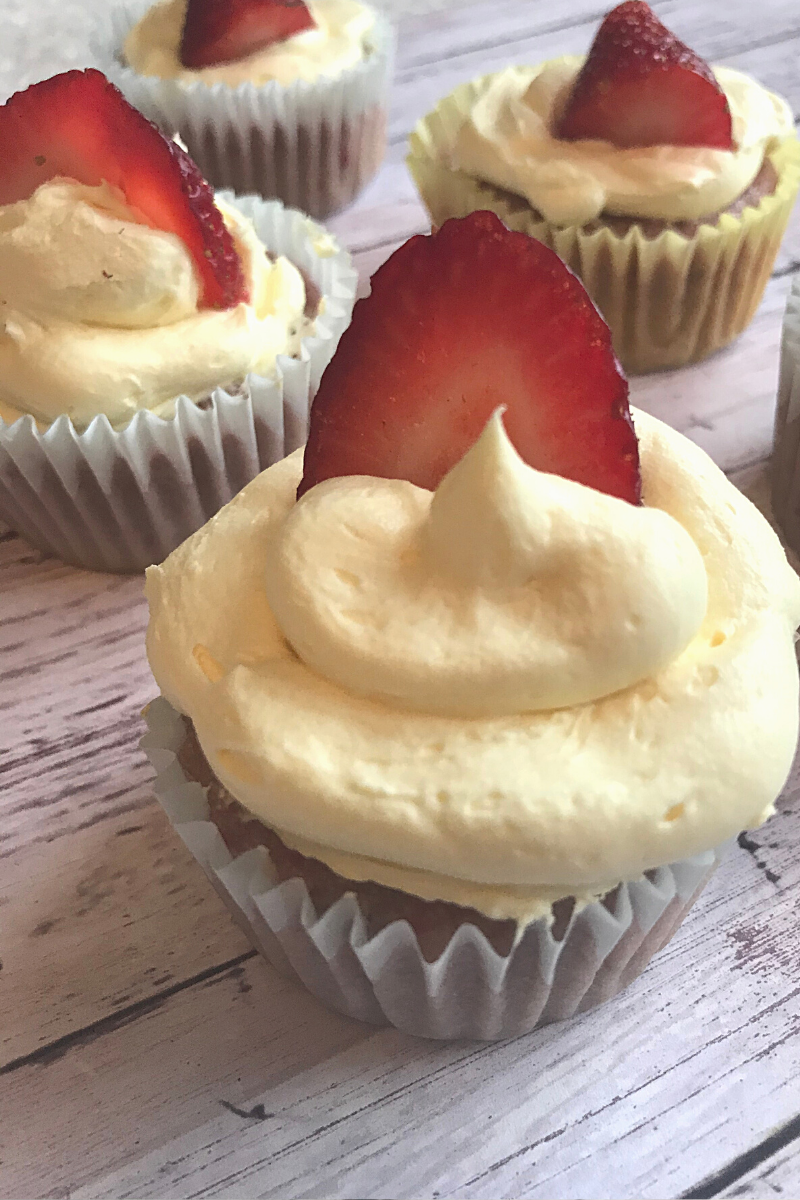 Gluten Free Strawberry Lemonade Cupcakes
Prep Time:
15 total minutes
Ingredients:
Dairy and Gluten Free Strawberry Cupcakes
1 1/2 cups granulated sugar
4 tbsp dairy-free butter (I used Country Crock Plant Butter)
1 tsp vanilla extract
3 large eggs
1/2 cup almond milk (or other dairy free milk)
1 tsp lemon juice
1 lb (about 1 1/4 cups) pureed strawberries
1 2/3 cups gluten-free flour (I used King Arthur)
1 tsp baking powder
1/2 tsp baking soda
1/4 tsp salt
Lemon Buttercream Frosting
1/2 cup dairy-free butter (I used Country Crock Plant Butter)
1 1/2 tsp vanilla extract
2 cups powdered sugar
2 tbsp lemon juice
yellow food coloring
Dairy and Gluten-Free Strawberry Cupcakes Recipe
Pre-heat oven to 350 degrees.
Line a muffin pan with cupcake liners.
Wash and remove stems from strawberries and cut them in half. Put strawberries in a blender or use an immersion blender and puree until smooth. Set to the side.
In a separate bowl cream the butter and the sugar together until smooth. Then add the vanilla extract.
Blend in the eggs one at a time until fully combined.
Make buttermilk by adding lemon juice and almond milk together. Let sit for a few minutes until the milk curdles. Then add buttermilk to the sugar mixture.
In a separate bowl add the gluten-free flour, baking powder, baking soda, and salt and mix.
Add the sugar mixture to the flour mixture and mix. Add the strawberry puree to the batter and stir until just combined. Do not over stir mixture.
Fill cupcake liners 3/4 full with strawberry cupcake batter.
Put cupcakes in the oven and bake for 20 minutes. Remove from oven and check with a toothpick to see if they are finished. Cupcakes are finished when the toothpick comes out clean.
Cool completely.
Dairy-Free Lemon Buttercream Frosting Recipe
Add the vegan butter, powdered sugar, and vanilla to the bowl and mix on low.
Keep the mixer on low and slowly add the lemon juice. Beat until smooth (about 3 minutes).
Add yellow food coloring.
Frost cupcakes and enjoy!