These dairy and gluten free zucchini muffins are so fluffy, delicious, and easy to throw together in a short amount of time. They are a great way to use up fresh zucchini from the garden and the perfect healthier treat for kids.
These muffins have a whole cup of zucchini hidden in them which makes them the perfect treat for kids (and adults too!). You will love the sweet taste of the chocolate chips and cinnamon in the batter, all while feeling less guilty about eating this vegetable filled treat.
These muffins are the perfect recipe to make ahead and freeze. Simply pull them out when you are ready to eat, pop in the microwave for 20-30 seconds and enjoy. They are a great make-ahead breakfast or the perfect easy school lunch idea for kids.
For another gluten and dairy free breakfast or packed lunch idea be sure to also check out these gluten and dairy free blueberry waffles (which also are stuffed full of fresh fruit)!
Tips for Success
* These muffins can be made either dairy-free or with dairy. Simply use regular milk and chocolate chips for a dairy version or almond milk (or any other dairy-free milk) and dairy free chocolate chips.
*You can choose to make ahead and freeze in a freezer safe plastic bag. Then pull out one at a time and defrost to eat right away. These also taste amazing fresh out of the oven when they are warm.
*For a fancier muffin use muffin liners of different colors. You are also able to spray the pan with cooking spray and omit the muffin liners.
*Be sure to squeeze the excess liquid out of the zucchini before folding into the batter. If you skip this step your muffins will turn out much too wet and will not seem cooked through.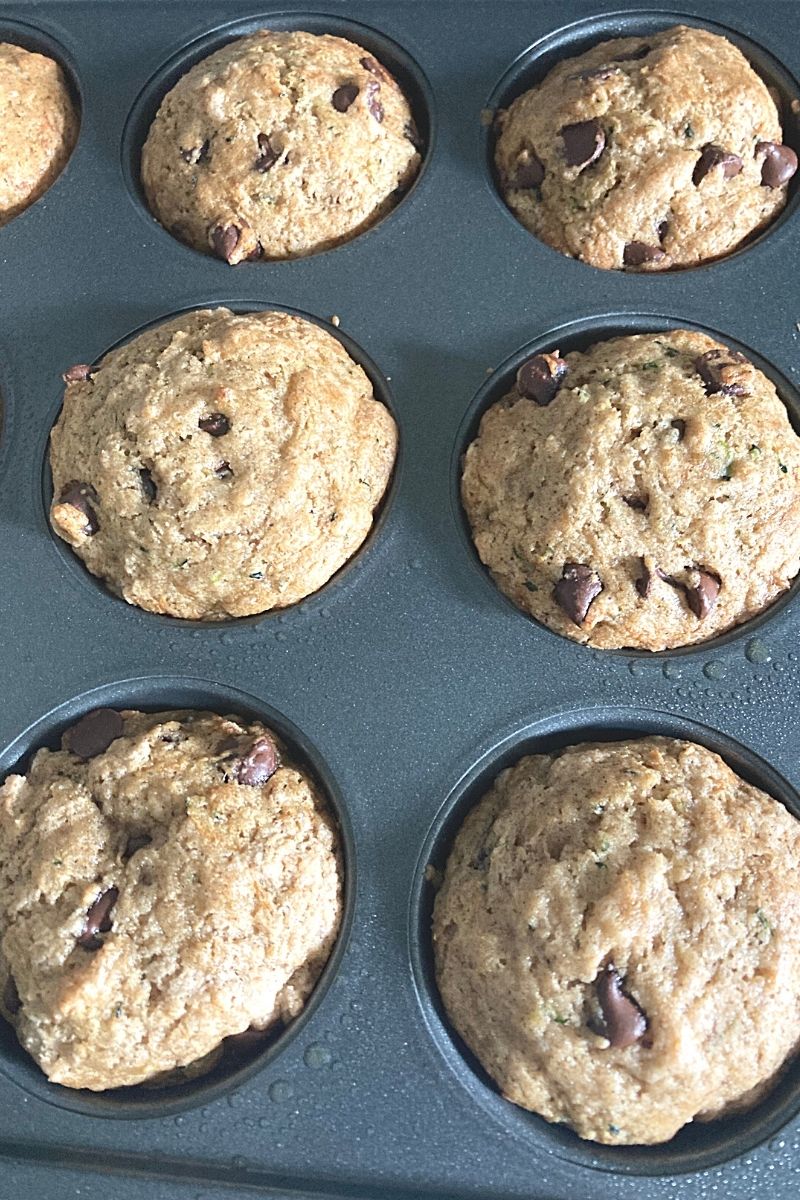 Gluten Free Zucchini Muffins
Ingredients
1 large egg
1/4 cup almond milk (or other dairy-free milk of choice)
1 tbsp lemon juice
1 tsp vanilla extract
1/2 cup vegetable oil
1 1/2 cups gluten free flour blend (we used King Arthur brand)
3/4 cup granulated sugar
1 tsp baking soda
1 tsp baking powder
1 tsp cinnamon
pinch of salt
1 cup shredded zucchini
1/2 cup dairy free chocolate chips
Directions:
Preheat oven to 350 degrees.
Spray muffin tin with cooking spray and set aside. 
Beat the egg, almond milk, lemon juice, vanilla extract and vegetable oil together by hand and set aside.
In a seperate bowl stir together the gluten free flour, sugar, baking soda, baking powder, cinnamon, and salt.
Slowy add to the wet ingredients and stir until combined. 
Wrap shredded zucchini in a cheese cloth and squeeze out the excess liquid. Slowly fold the zucchini into the batter.
Fold in the dairy free chocolate chips. 
Fill muffin tins about 1/2 – 3/4 of the way full .
Bake in oven for 25 minutes or until golden brown.