We have been doing all sorts of learning about the Olympics this week in honor of the Olympic games that are currently taking place. In order to learn all about the past and present Olympics we've been eating Olympic themed snacks, creating Olympics crafts, Olympic activities, and sensory bins as well as checking out books from our local public library.
We used materials that we had around the house to create and learn about olive leaf crowns used in the olympics previously. We also learned all about the Olympic rings and their significance. A lot of our activities revolved around these. Scroll down to check out directions for some of our favorite Olympic activities and crafts.
Olympic Rings Craft
To make this Olympic rings craft you will need white paper or cardstock, red, blue, black, green, and yellow paints, and a small cup or bottle cover.
Begin by pouring a large amount of each paint color onto a plate. You will need to make sure the amount that you pour onto the plate is larger than the opening to the cup/bottle cap that you are using. 
Dip the open side of the cup into the blue paint and push down on the paper. Wash cup first or use another one. Dip the open side into black paint and push down to the right of the blue circle. 
Continue to do this with the other colors. The red circle will go to the right of the black circle. The yellow circle should be centered below the blue and black circles. The green circle should go to the right of the yellow circle and be centered under the black and red circles. 
This should form the shape of the Olympic rings. If you want to create a more abstract painting or allow for extra creativity you can simply use the cups and paint colors to stamp rings the same colors as the Olympic rings all over the paper. 
Olympic Crown Craft and Play Idea
This Olympic play idea allows for children to create a fun craft and use it reenact an Olympic ceremony. It also allows for children to learn about the history of the Olympics and Olive leaf crowns.
To create this Olympic olive leaf crown you will need two pipe clearners (orange, yellow, or gold work best) and various leaves (picked right off of a tree or plant works best as you don't want your leaves to be too dry or they will rip). 
Begin by connecting your two pipe cleaners together by spinning the bottom inch together. Poke the pipe cleaner through the middle of the fresh picked leaves and pull them down to the end of the pipe cleaner. Be careful not to rip the leaves.
String all of your leaves onto the pipe cleaners and spin the open ends together to create a circular crown of leaves. Then your crowns are ready to wear atop of your head. 
After making crowns allow children to create a make-shift podium. We used a gymnastics play mat for ours but large bins or boxes children can stand on work equally well. Number the "podium" with one, two, and three. Let children re-enact a medaling ceremony using their crowns and stuffed animals. 
*Leaves on the crowns will dry out after a few hours of playing with them. You will need to make a new one if interested in playing again later.
Olympic Snack
This super simple olympic snack idea is the perfect healthy snack idea for kids. All you will need for this snack are 5 different kinds of fruit/vegetables; one of each in the colors red, black, blue, green, and yellow.
On a serving tray or platter lay down your fruits and vegetables in the shape of the Olympic rings. Make sure to match the colors of each of your fruits/vegetables to the correct color ring spots.
For ours we started by making a blue circle with blueberries in the top left. Next we moved over and did a black circle in the middle with blackberries. Then we used strawberries for the top right circle. Next we moved down to the bottom left and used nectarines for our yellow circle. Last we moved to the right of that and used avocado slices.
If you're little one isn't a fan of these fruits and vegetables feel free to sub any of them out for other ones. You can also choose to make it a snack platter and use snacks or treats for some of the circles (IE cheese for the yellow circle, chocolate chips for the black circle, etc…
Olympic Rings Taste Safe Sensory Activity
This activity is a great one for sensory water play. It is great for a hot day as well as learning colors and very easy to prep and set up. 
For this activity you will need a muffin pan (or multiple muffin pans), food coloring, water, and a large bin or bowl. Begin by filling all of the spots in your muffin tray with water close to the top.
Add one drop of food coloring to each muffin tin in the colors red, blue, yellow, green, and black and stir each one. Continue to do this with all of the colors multiple times until the muffin pan is filled. Then stick muffin tray into the freezer and freeze until solid.
You may want to repeat this process a few times (or use multiple muffin tins) until you have many different ice chunks in each color. I repeated three different times for a combined totoal of 36 different ice chunks. 
Take ice chunks out and have your little ones help set them up in the shape of the Olympic rings in a small pool, water table, or bin/bucket. The more ice chunks in each color you have the more Olympic rings you can make. 
Then allow your little one to pour hot & cold water on top, melt with their hands (or mouth since it is taste safe), try using salt water, etc…to see if they can get them to melt. Allow them to explore and play with Olympic colored ice cubes freely. 
You could also practice color recognition and have them sort them into like colors. Color mixing can be practiced by having them put two different colors in the same bowl and pouring water over top. The water will turn the mixed color and teach them what the combinations make.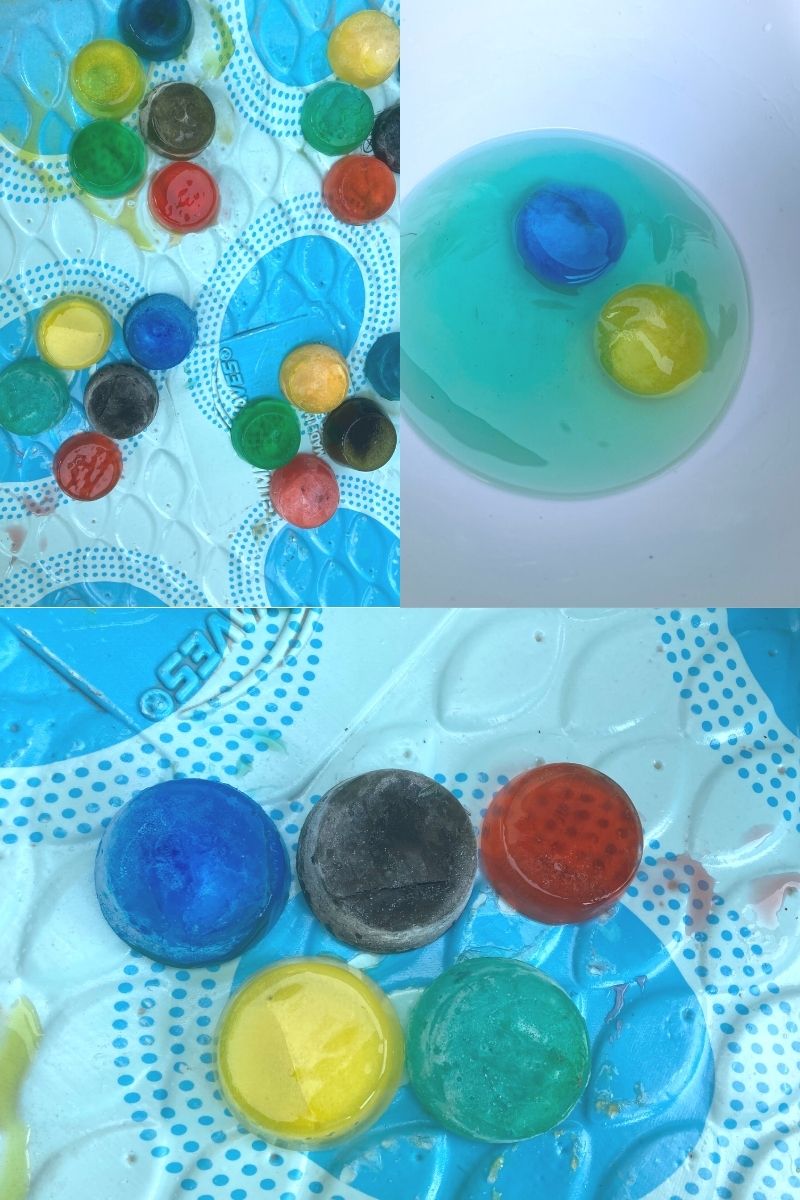 If you're looking for another fun activity to go along with the Olympic theme you could make bubble foam in the Olympic ring colors and pour them all into a water table to play.