This gluten free strawberry crisp is the perfect dessert for a warm summer day. It can be made with frozen or fresh strawberries and topped with a delicious gluten-free streusel before being baked to perfection. Serve with vanilla ice cream or whipped cream for a refreshing summer treat.
This recipe can also be made into a vegan strawberry crisp if you simply swap out the butter for a vegan butter (country crock plant butter is our favorite). Top it with a vegan and dairy-free cream or dairy-free ice cream if desired and you have the perfect vegan summer treat.
This recipe can be made with frozen strawberries but I would highly recommend using fresh strawberries. It is amazing anytime, but our favorite way to make it is after a fun day of strawberry picking. Freshly picked berries make it so sweet and addicting.
If you're looking for other gluten-free strawberry desserts make sure to also try these delicious gluten-free strawberry lemonade cupcakes.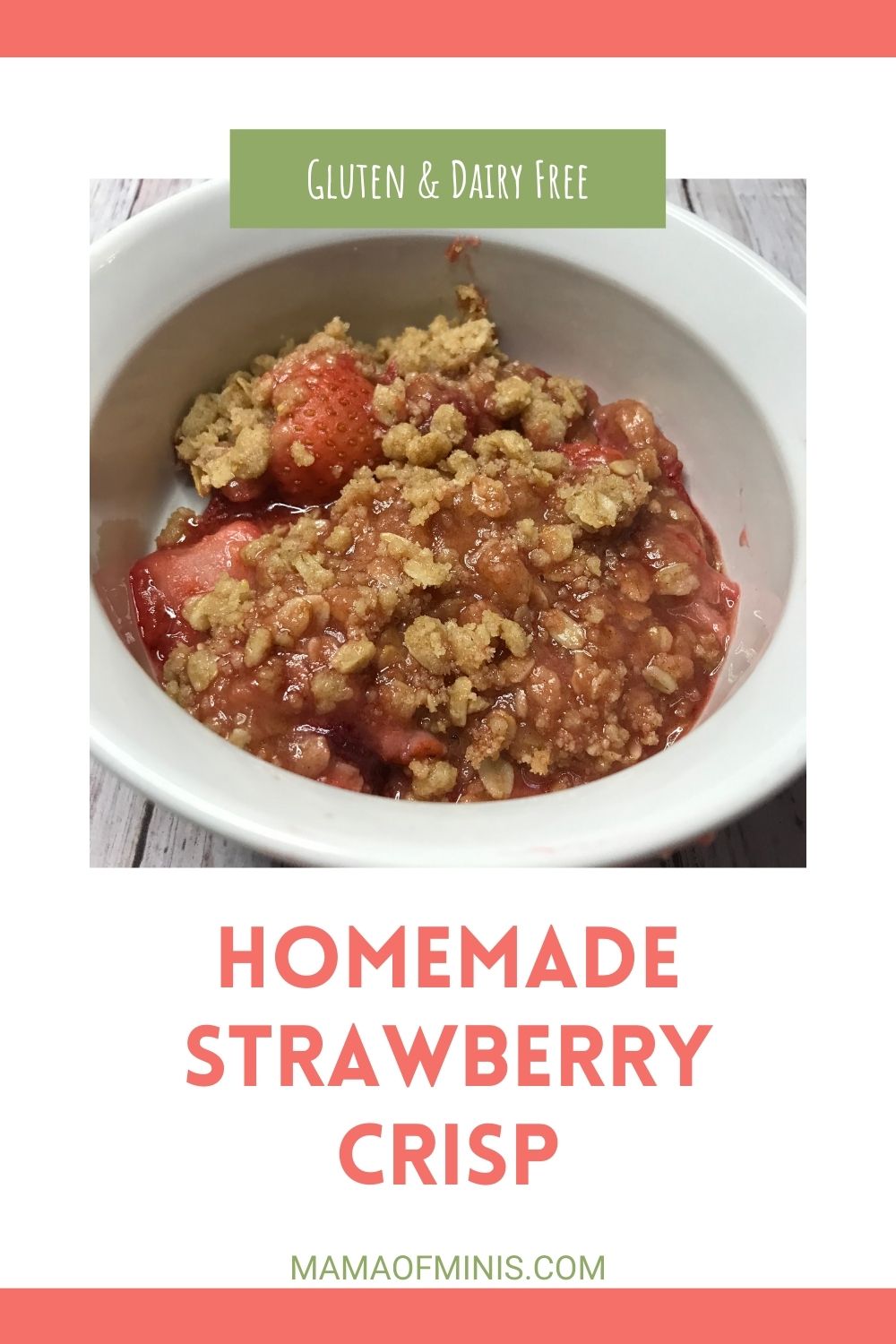 Tips for Success
*Fresh strawberries are our favorite for this recipe. Make sure to wash and cut the stems off of the strawberries. Then quarter them before adding them to the bowl. If they are very large strawberries you may want to cut them even smaller than quarters.
*If you are using frozen strawberries add an extra tbsp or two of cornstarch. This will help absorb some of the extra liquid when baking. I also find that when we go strawberry picking and have strawberries that are super juicy I need to use an extra tbsp or two of cornstarch as well.
*Make sure to use a 1 to 1 gluten-free flour blend. King Arthur brand is the one I used in this recipe.
*If there is leftover strawberry crisp be sure to store it in the fridge. When ready to eat again heat it up in the microwave or oven before eating.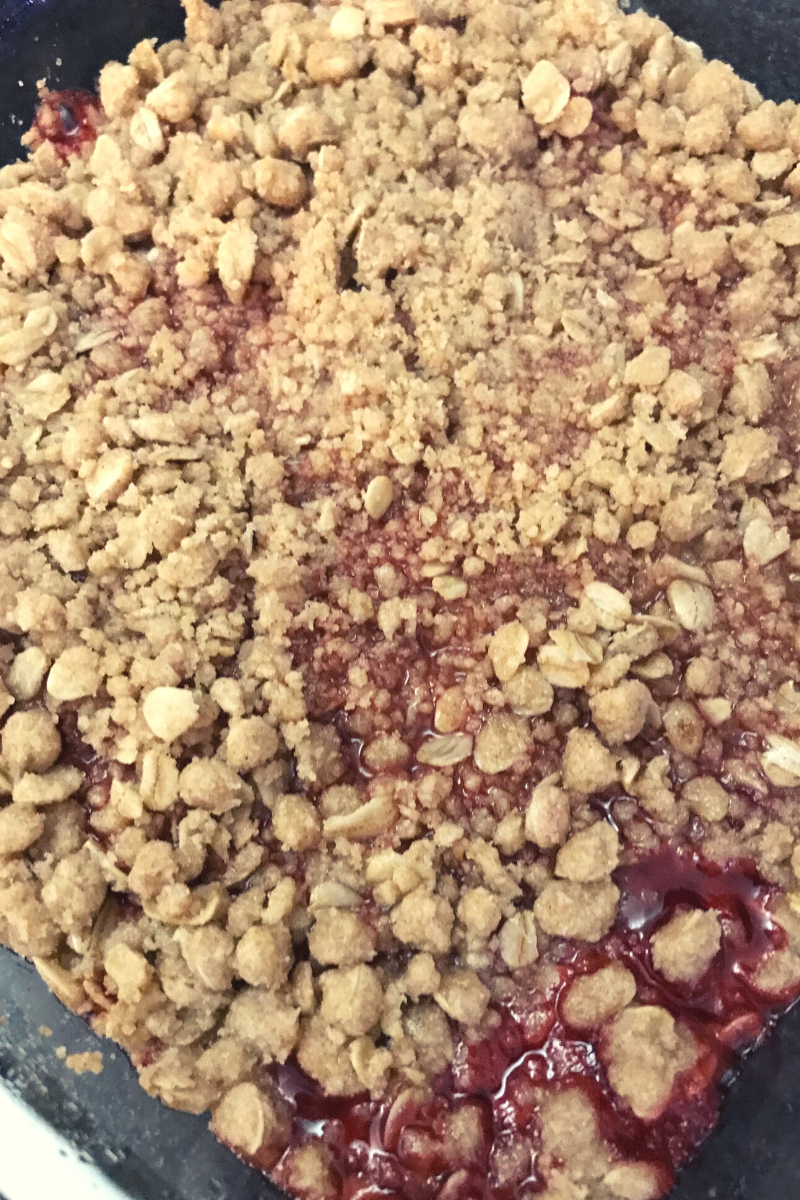 *This dairy and gluten-free fruit crisp recipe can also be made with any other fruit of choice. I've made the same recipe but swapped out the fruit for fresh peaches to make a delicious gluten-free peach crisp. I've also tried it with fresh blueberries, a frozen berry blend, and apples (with the vegan caramel sauce found here drizzled on top). All 4 ways have been amazing.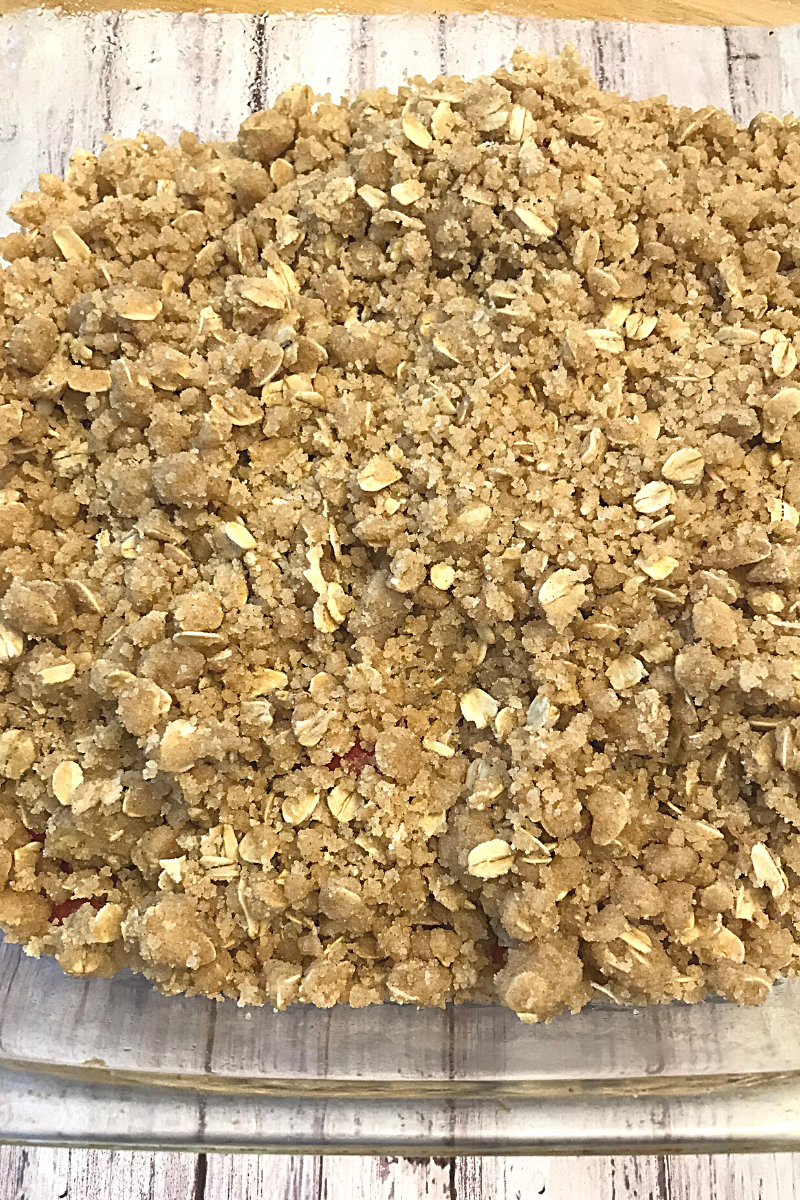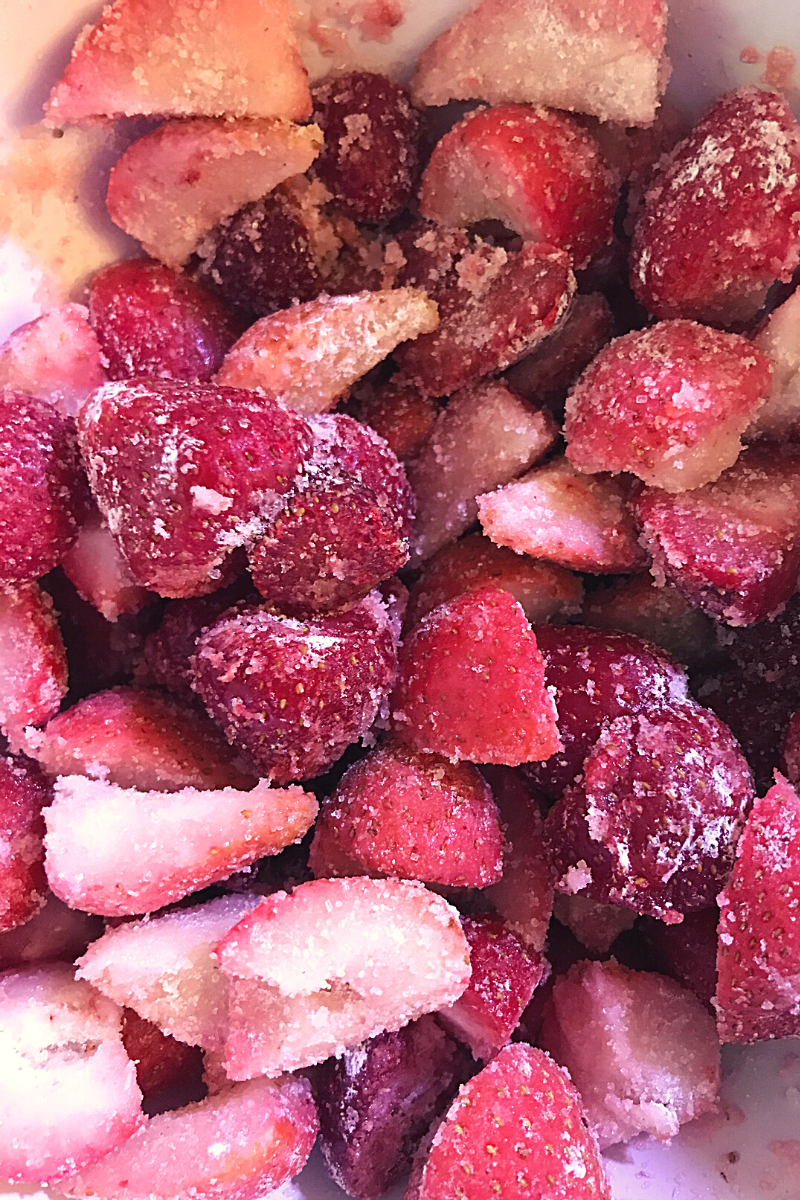 Gluten Free Strawberry Crisp
Prep Time:
15 total minutes
Ingredients:
2 lb of fresh or frozen strawberries (~4 cups)
2-3 tbsp cornstarch (depending on if you use fresh or frozen berries)
1/4 cup granulated sugar
1 cup gluten-free flour of choice (we like King Arthur blend)
1/2 cup gluten-free cooking oats
1/2 cup brown sugar
1/4 cup granulated sugar
1 tsp cinnamon
1/4 tsp salt
1/2 cup melted butter (or vegan butter of choice)
Directions
Pre-heat oven to 375 degrees.
Spray a 9×9 in pan with cooking spray.
Combine the strawberries, cornstarch, and 1/4 cup sugar in a bowl and stir to coat.
Pour strawberry mixture into the 9x9in pan and set aside.
In a separate bowl melt the butter (or vegan butter) and add the gluten-free oats, gluten-free flour,  brown sugar, 1/4 cup granulated sugar, cinnamon, and salt.
Stir until crumbly.
Sprinkle the streusel crumb mixture evenly over top of the strawberries in the prepared pan.
Bake for 30 minutes or until the streusel mixture starts to brown and the strawberry mixture is bubbly on the sides.
Serve warm with vanilla ice cream or whipped cream (Or dairy-free ice cream/cream).
Store any remaining crisp in the refridgerator.