These air fryer dairy and gluten free apple cider donuts are the perfect easy breakfast and come together in less than 15 minutes. This healthier donut recipe uses apple cider, a gluten free flour blend, and a cinnamon sugar coating to make the most delicious gluten and dairy free breakfast.
Simply whip up the batter, shape the donuts, and fry in the air fryer for 6 minutes. When they come out you roll them in dairy-free butter and then a cinnamon sugar mix. Ready to eat in 15 minutes or less.
These delicious apple cider donuts are a modified version of our absolute favorite gluten and dairy free donuts from vegetarianmammma. We absolutly love the addition of rice krispy cereal to make these donuts have the perfect texture. Head on over to her site for the original recipe.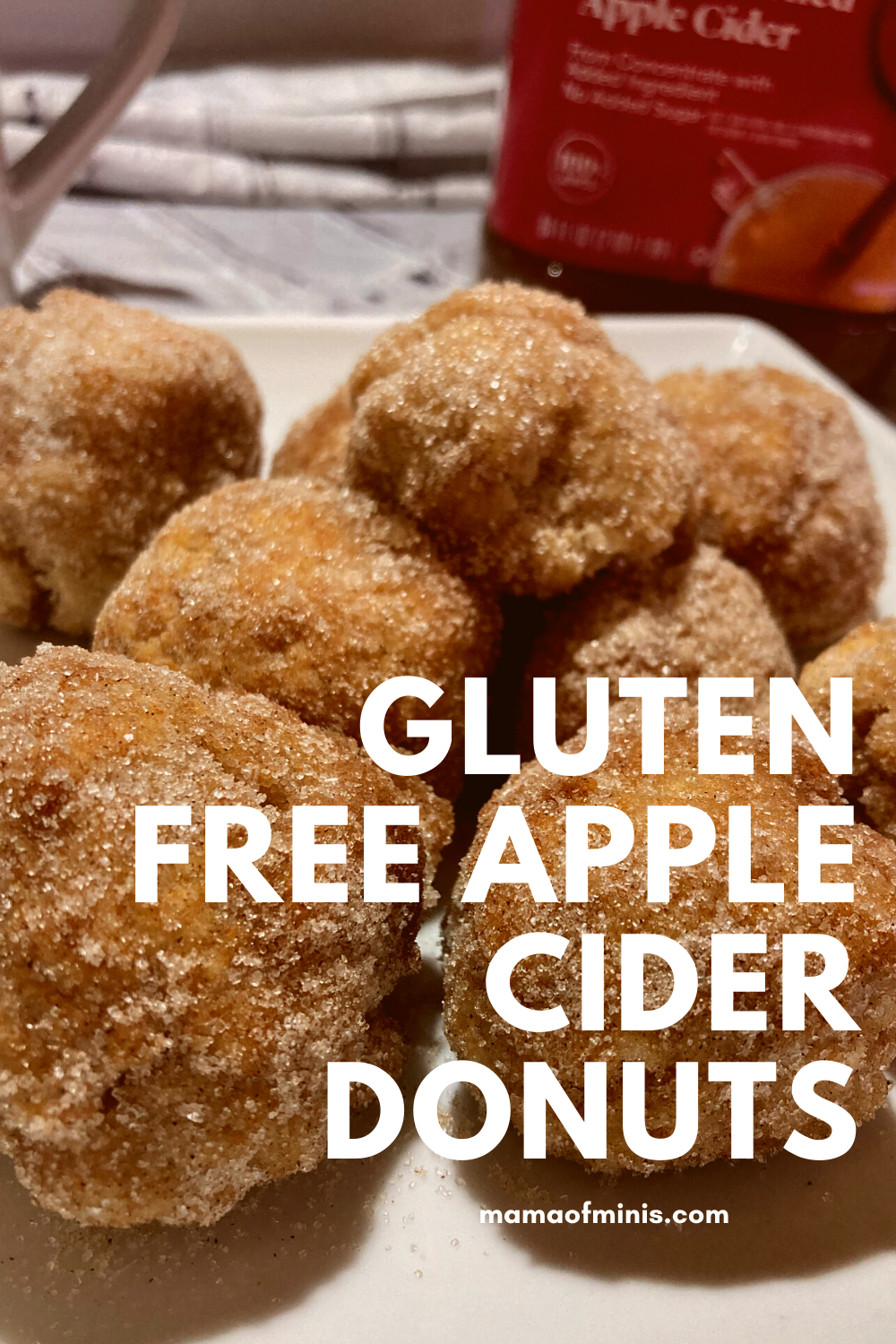 Tips for Success
*The dough for these can get a little crumbly so be sure to tightly roll the donut holes before you put them in the air fryer. Also, when you shake the air fryer basket halfway through be sure to shake it gently so they don't fall apart.
*For a healthier donut, roll the donut holes in a little bit less of the cinnamon-sugar mix if desired. You can control the amount of dairy-free butter or cinnamon-sugar on each one which makes it super easy to customize each one depending on who is eating them.
*These air fryer donut holes taste amazing on their own. However, they also taste great with the same caramel sauce found in the post for these gluten free churro poppers. 
Air Fryer Gluten Free Apple Cider Donuts
Prep Time:
5 total minutes
Ingredients:
1 1/3 cups gluten-free flour blend (King Arthur Brand is our favorite)
1 cup rice krispies cereal (or other gluten free rice crisp cereal)
2 tbsp granulated sugar
2 tsp baking powder
1/4 tsp salt
1/4 cup (1/2 stick) dairy free butter
1/2 cup apple cider
Cinnamon Sugar Topping
1/4 cup dairy free butter
1/2 cup granulated sugar
1 tbsp cinnamon
Directions
1. In a mixing bowl, combine gluten free flour blend, rice krispies cereal, 2 tbsp granulated sugar, baking powder and salt. Stir together.
2. Add the softened dairy free butter and stir with a pastry cutter or fork until mixed. Dough will be crumbly.
3. Add in the apple cider and stir until combined.
4. Roll the mixture into balls about 1″ around and add to the air fryer. Try to keep them from touching or laying on top of each other if possible.
5. Bake in the air fryer at 375 degrees for 4 minutes. Take out the air fryer basket and give a gentle shake to flip the donut holes around. Cook for 3 more mintues at 375 degrees.
6. While donut holes are cooking melt dairy free butter in a small bowl.  Mix together the 1/2 cup sugar and cinnamon in a seperate bowl until combined.
6. Pull finisedh donuts out of air fryer and one at a time dip in melted dairy free butter and then roll in the cinnamon sugar mix. Do this with all of the donuts.