This Easter Egg craft for kids is such a fun and easy Easter craft. It starts as a colorful Easter egg and can be opened up to find a bunny surprise hidden underneath. The egg becomes the bunny's ears. It allows creativity with different colors and patterns, utilizes cutting and skills, and is perfect for kids ages 2 all the way up to 10+.
When I taught Kindergarten, this was one of my favorite activities to do with the students. They loved the end result with the hidden bunny underneath. The students were allowed to use their creativity to decorate their Easter eggs in whichever way they desired. We would usually end the project with a writing prompt about their Easter eggs.
Read on for tips, directions, and a free template for your little ones to make their tape resist Easter egg bunny surprise.
This post may contain affiliate links and as an Amazon Associate and a member of other affiliate programs, I may earn a small compensation from qualifying purchases. All opinions and recommendations are my own.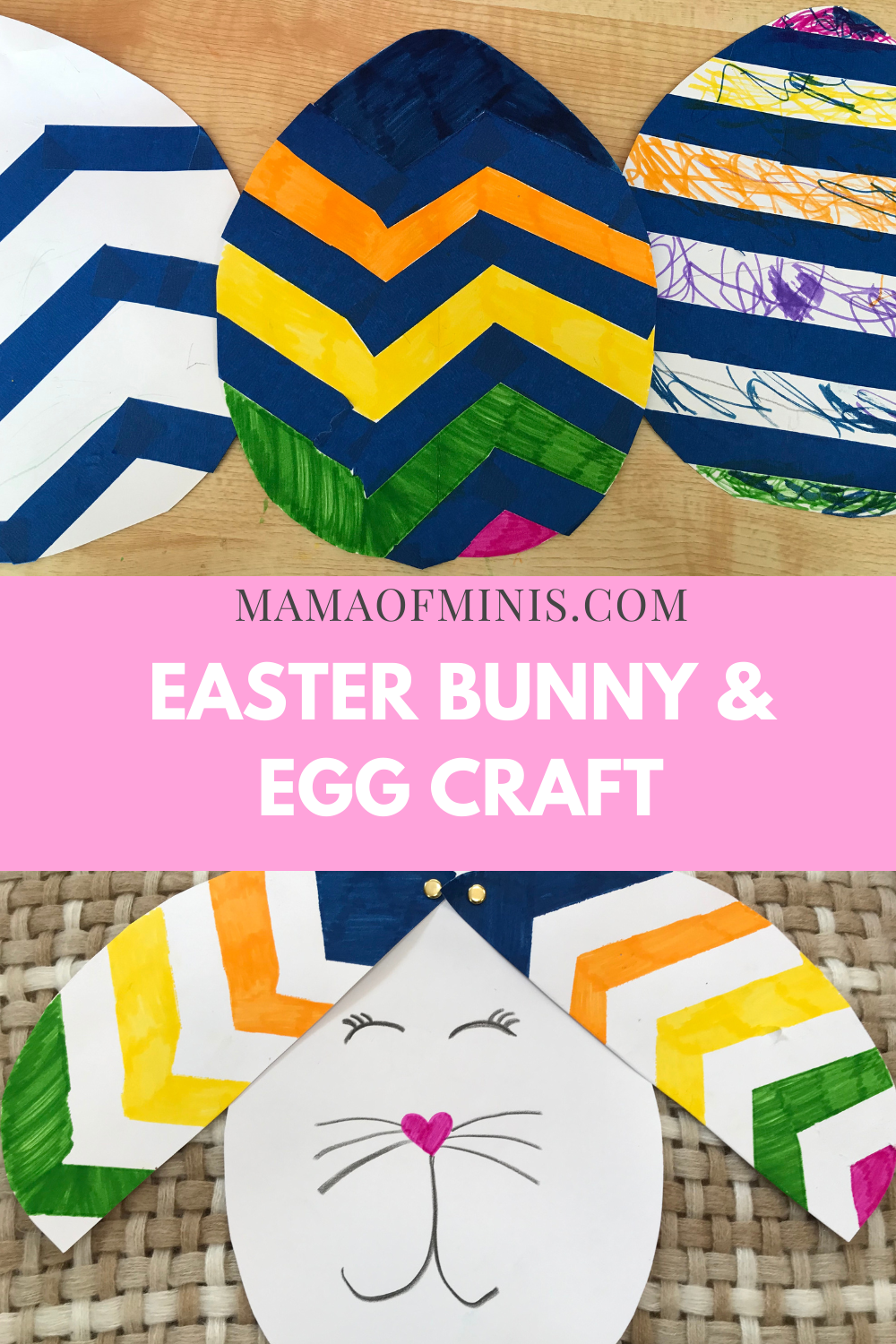 When creating our tape resist Easter egg craft, I free-handed two different egg shapes on paper. You are able to take this route if you want a larger egg. Otherwise, I've included a template that you are able to print on normal printer paper.
After drawing/printing, you are able to make your Easter eggs. This is where you are able to be creative. When making our eggs we used painter's tape to work on staying in the lines and to create images that were a bit easier to color. This also helped to ensure it ended up looking like a decorated egg when my little one was done. I put spread-out painter's tape zig-zags and had my toddler color a different color in between each line.
This was a great activity to help her practice her colors and her fine motor skills in trying to stay in the lines. I had her choose the colors but ensured that she did a different color on each open space. When coloring these in they look best with bright colors that can be made with markers or oil pastels.
Once we colored in the white spaces as best as we could, we removed the painter's tape slowly. I planned on doing this myself but my toddler insisted and actually did a great job with it. It ended up being her favorite part of the project and she kept wanting to "rip more tape."
When creating bunnies if you have a young toddler like mine I think that painter's tape is a great way to go. However, if you have an older child or an independent toddler you can also have them create zig-zags, polka dots, shapes, patterns, and more free-hand. When I taught Kindergarten this was always the route I took and some of the eggs really turnout out awesome. The only direction I gave for the eggs was to fill in all of the white space.
Once the egg was complete we cut it in two down the center. Then we began to work on our bunny's face. We drew eyes, a heart nose, whiskers, and a mouth. This was a pretty quick job.
The last step was to put the bunny egg together. We lined up our bunny and egg and pushed our brass connectors into the two top points of the egg pieces (or the two black holes on the template) and then into the top of bunny's head to connect them.
Once finished with this our surprise bunny was ready. Simply lift each of the egg pieces up to the sides to reveal the bunny's face with Easter egg ears.
When creating this project you'll need to make sure that you have white cardstock as well as scissors, brass connectors, and colorful crayons/markers/oil pastels. If your little ones want to embellish their bunnies once put together, you may also want foam stickers, glitter, and more.
Our favorite craft kit that we use daily includes a lot of these things (Our free unicorn template and craft is another one of the projects we use this for). Check it out if you find you are constantly needing craft materials. It includes everything you'll ever need!
Easter Egg Craft for Kids
 Materials
White cardstock
Scissors
Brass fasteners/connectors
Markers/crayons/oil pastels
Foam Stickers, glitter glue, sequins, etc… (optional)

Free Easter Egg PDF Template
Activity:
1. Print out the template PDF at the bottom of the post or freehand your own egg shapes (You will need two of them). 
2. Add painter's tape zig zags to the Easter egg/ears page. Space them out about 1/2in to in apart. Color the white spaces in between the painter's tape different colors.
OR
Draw/color egg whichever way desired. Fill up all the white space for a vibrant egg.
3. Cut finished egg out and cut down the middle (on the black line if using template)
4. Draw bunny's whiskers, eyes, mouth and heart nose on other egg shape and cut out.
5. Lay the egg pieces on top of the bunny's face.
6. Poke holes into the black circles with brass fasteners. Go straight through both the egg and the bunny's face. 
7. Lift egg pieces to the sides to reveal completed bunny face or keep them down to see your beautiful Easter egg. 
7. If desired, stick or glue foam flower stickers to the top of the hair to create a flower crown on the unicorn. Add any other desired embellishments including glitter glue, stickers, sequins, etc.