This sheet pan sweet and sour chicken is the most delicious meal. It is so quick and easy and the perfect meal for a busy weeknight. Simply chop up the vegetables and fruit and cook with the chicken on the sheet pan. Prepare the sauce right before you are ready to cook and you have your meal. 
This meal is made both gluten and dairy-free and can also be made to be whole 30 compliant if needed. It is a healthy version of the take-out favorite and equally as delicious. It is customizable as you can sub out any of the vegetables you don't like for other vegetables. Read on for tips for success in making this delicious sheet pan sweet and sour chicken. 
*One of my favorite tips for easier clean-up is to cover your sheet pan with foil before starting. This way you are able to just remove the foil once finished and do a quick washing of the pan. No need to scrub at stuck-on food at all.
*To make the job easier try using a pineapple corer. One of my least favorite jobs is cutting up pineapple and it makes this so much easier and quicker. Once done using the corer you are left with the outside that you can simply hand squeeze the juice needed for the sauce out of.
*You can also use canned pineapple and the remaining juice for this recipe. Fresh is by far our favorite in this recipe but I've made it with canned when I don't have fresh available and don't want to go to the store.
* We like red and yellow peppers best but you can use any combination of red, yellow and/or green peppers. Another great addition to this recipe is onion chunks as well. You can swap out, remove, or add any other vegetables if desired. 
*If you want to make your meal whole 30 compliant simply swap the normal ketchup out with one like Tessamae's or primal kitchen's ketchup and make sure to use arrowroot powder instead of cornstarch. Everything else should be whole 30 compliant already.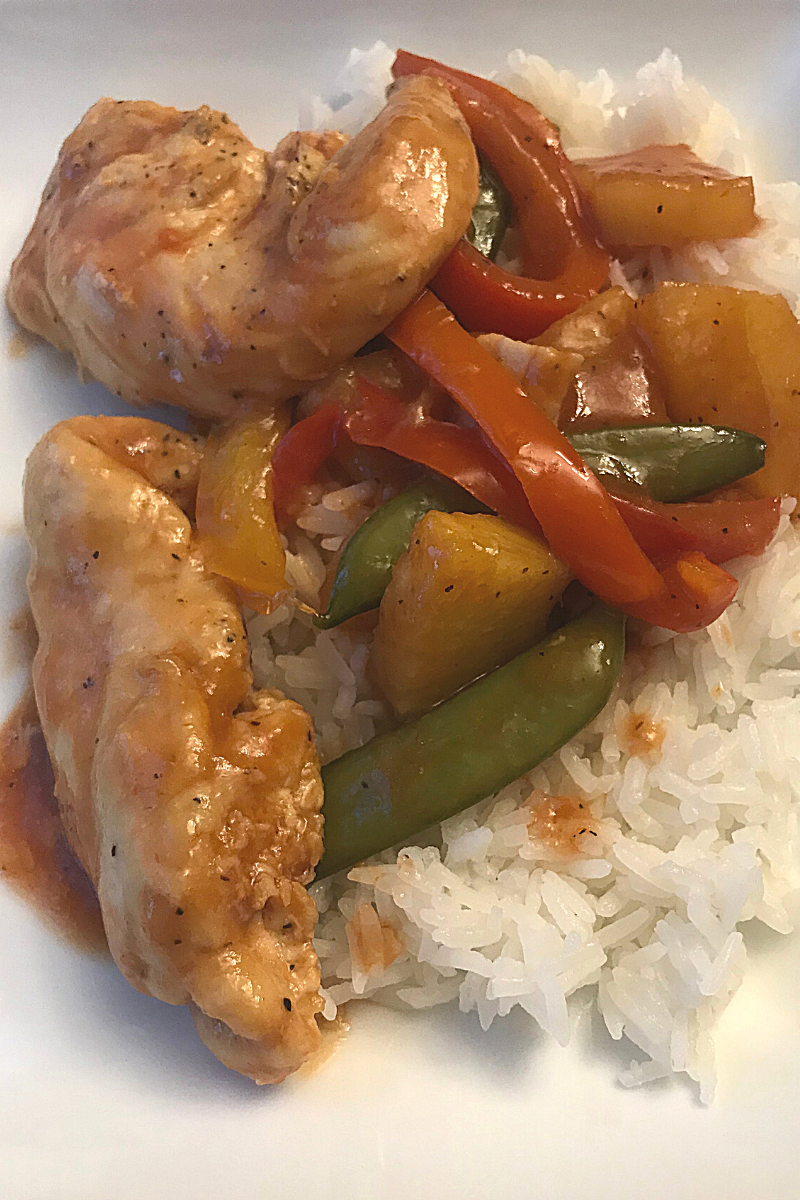 This is the perfect easy night meal. It is a favorite in our house and on our bi-weekly menu rotation. It is a meal even my picky toddler will eat. We recently invested in a new sheet pan and I am so thankful I did. Makes it so much easier to cook quick and healthy meals! Read on for directions for this delicious sweet and sour sheet pan chicken.
Sheet Pan Sweet and Sour Chicken
Ingredients:
1 lb chicken breast tenderloins

1 red pepper cut into strips
1 yellow pepper cut into strips
2 cups fresh pineapple chunks
1 cup sugar snap peas
2 tbsp olive oil
1 tsp ginger
1/8 tsp pepper
salt to taste
Sauce Ingredients
1/2 cup pineapple juice
1/2 cup ketchup (sugar-free if whole 30 desired)
1/4 cup rice vinegar
1/2 cup coconut aminos
1 tbsp cornstarch or arrowroot powder
Directions:
Preheat oven to 400 degrees.

Cut 1/2 of the pineapple into chunks. Squeeze juice from the remaining pineapple and reserve for sauce. Spread pineapple chunks on first quarter of sheet pan
Cut peppers into 1/2 in slices. Spread peppers on second quarter of sheet pan.
Spread sugar snap peas on third quarter of sheet pan.
Spread chicken breast tenderloins onto the remaining part of sheet pan.
Drizzle olive oil and sprinkle ginger, pepper, and salt, over chicken, peppers, peas, and pineapple. Stir each section up separately.
Bake in oven for 35 minutes or until chicken isn't pink in the middle and is cooked through. Flip once halfway through to ensure even cooking.
When there is 5 minutes remaining on the chicken begin to make the sauce. Combine the saved pineapple juice (or canned if unable to save), ketchup, rice vinegar, coconut aminos and cornstarch in a saucepan.
Heat at medium heat until bubbling.
Remove cooked chicken and vegetables mixture and pour sauce over everything. Mix together.
Serve over rice.