We have been loving all things sensory bin lately at our house. Sensory bins for toddlers are an awesome way for little ones to work on new skills and learn new concepts all while having fun playing. They're great for counting, measuring, scooping, pouring, sorting, matching with books, and simply learning through play.
As a previous Kindergarten teacher, I am a firm believer in play-based learning and all that comes with it. There are so many benefits to it and little ones love it. They don't realize they are learning and it is great in so many ways. Read on for three easy ways to create spring-themed sensory bins so your littles can play and learn. 
Easter Count and Sort Sensory Bin
To make this spring themed sensory bin all you will need are some dried beans, dried split peas, multi-colored bunny/chick themed erasers (Thank you target dollar spot!), plastic Easter eggs, and a tray or bin. We also found a bunny figure around our house to add in for fun.
Begin by getting your tray ready. We like to use a small tray at our house for our sensory tray as you need less material to fill it and it tends to make a bit less of a mess to clean up. I found the perfect tray in the Target dollar spot that has a large section and four small circles. It works perfect for our sensory tray because it has a big area for the set-up and the smaller circles can be used for sorting.
Begin by filling half of your tray with white beans and the other half of your tray with split peas. Take your multi-colored erasers and spread them all around in the bean/pea mix. You can bury them in or just lay them on top. Then fill another small area with Easter grass and easter egg pieces. Make sure to have one easter egg piece for each color eraser that you have. Put your bunny figure (if you have one) in the corner and let your little one play.
There are an unlimited amount of activity ideas to go with the bunny sensory tray that you can come up with but some of our favorites include:
Read the book Bunny Duck or any bunny themed book
Sort erasers into easter eggs by color
Sort erasers into easter eggs by animal
Once sorted count the easter eggs by color/animal
Scoop and pour beans/peas/erasers with the Easter eggs
Pretend the Easter bunny has hidden chicks/bunnys and you need to find them
Bury things in the beans/peas like erasers, hands, feet, etc…
This sensory tray was super easy to set up overall and very inexpensive. This is a great one to recreate at other times with different themes erasers as well.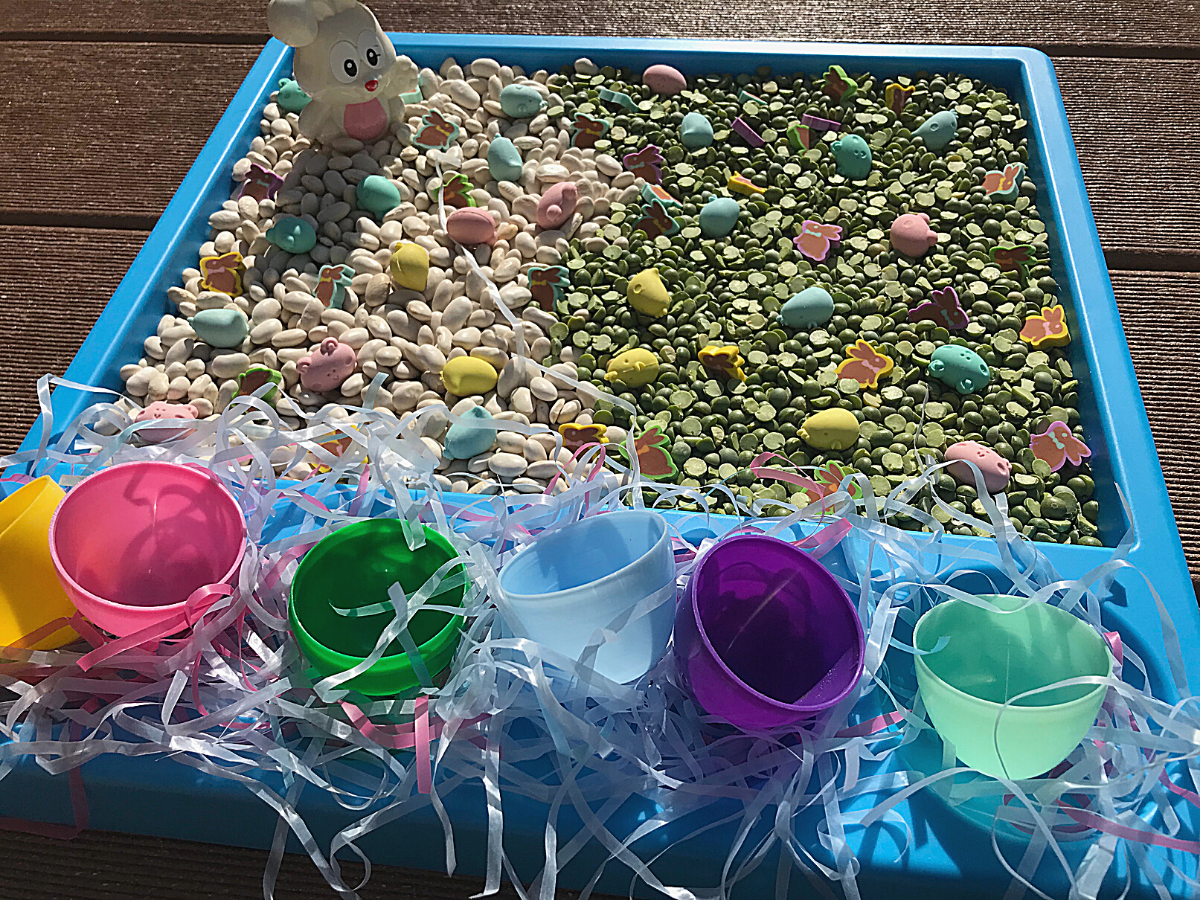 Planting Seeds Sensory Tray
This garden sensory tray is also super easy to throw together and the bonus is that you probably have most everything you need at home already. You will need a tray/bin, dirt/soil, rocks, toothpicks/paper (for signs), mini shovel, cup/spray bottle with water, and seeds/beans. I used some of the split peas/beans from my previous sensory bin. 
Begin by filling the tray with dirt/soil. Line tray with rocks in the corners. Have your mini decide what kinds of foods she wants to plant in her garden and write the names on the signs. Put the signs in the dirt. Draw small lines in the dirt to give your ltitle an optional idea of planting in rows. Get seeds ready for your little in an easily accessible place. We used the four slots on the side of our tray for these. 
Once your tray is ready begin by reading a book on planting/farming. We love this super simple book "Planting Seeds" by Kathryn Clay. Read the book and talk about how planting works. Then give your little the tray/bin and have them go enjoy. Some ways to enjoy this sensory tray:
Dig holes with the shovel (or hands)

"Plant" seeds in the holes/bury them in the dirt

Use a spray bottle/cup of water to water the seeds

Make decorations in the dirt with the seeds

Make hills with the dirt
This sensory tray can be especially helpful if/when you are into planting yourself. My little loves to help me "plant" but oftentimes ends up pulling out a lot of the plants and digging big holes where I am trying to plant. This way your little's have their own garden to play with and plant.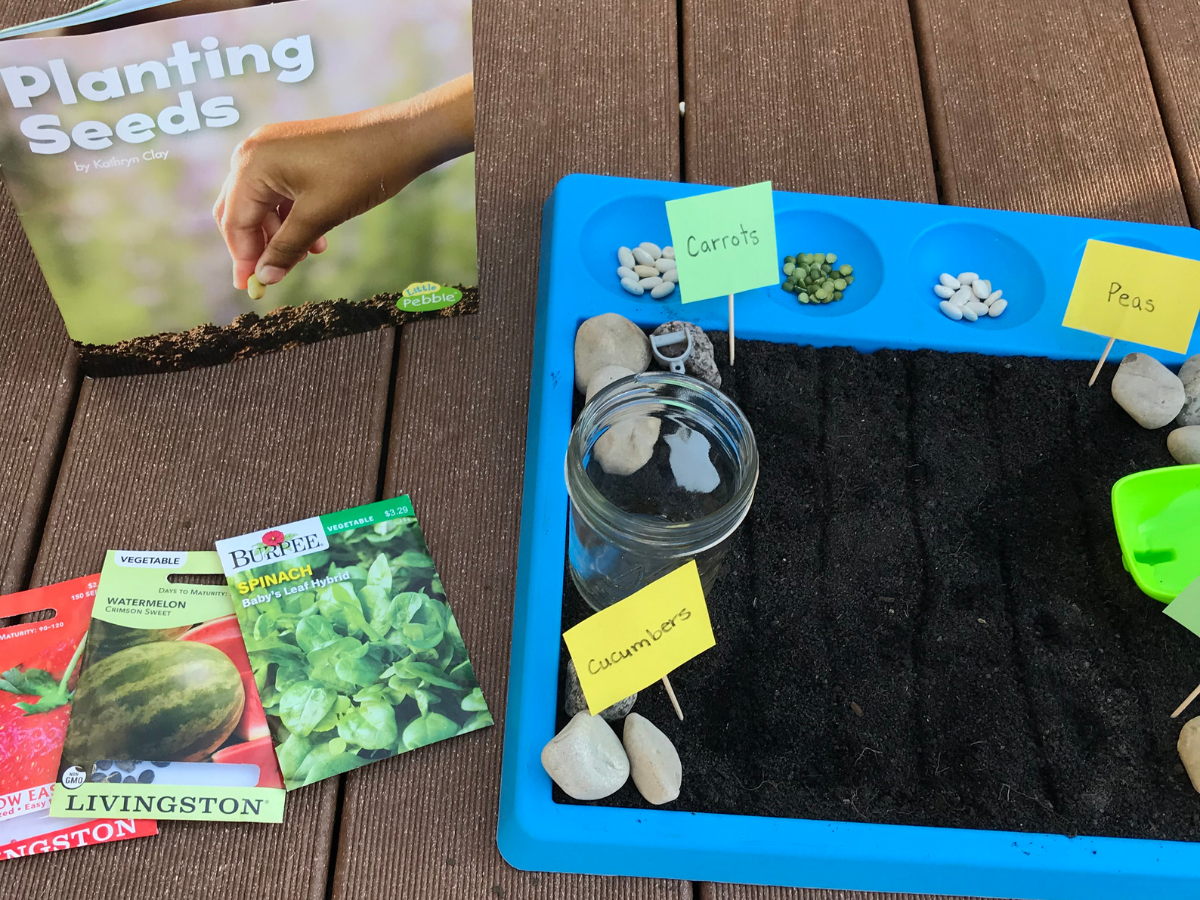 Nest building Activity Tray
This activity is a great one for a beautiful spring day. We created this on the first day of spring. The items you will need are various sticks, straw, grass, leaves, a tray of some sort, a "bird," and eggs (we used marshmallow peeps and jelly beans for these items). 
Begin by reading a book on birds and their nests. Talk about what a nest can be made out of and have your little brainstorm what they might find. Then go on a scavenger hunt outside and collect items for your tray. Line up items all around the outside of the tray. Remind them what a nest looks like (IE shape, size, etc…) and then have them go crazy building the nests.
Once the nests are built you can have your little ones add their bird and eggs to the nest and play. Then they can also explore more. My little loved the scavenger hunt and was so proud of her result. Here are some ideas for ways to use the nest building sensory tray:
Go on a scavenger hunt to find items

 Create a bird's nest with various sticks, grass, straw, hay

Play pretend with the bird, nest, and eggs.

Use sticks they found to make a "tree" for the nest to go in.

Make a different structure/shape with their materials when finished. 

Talk about other animals that may use similar materials to make their homes and have little's make those as well.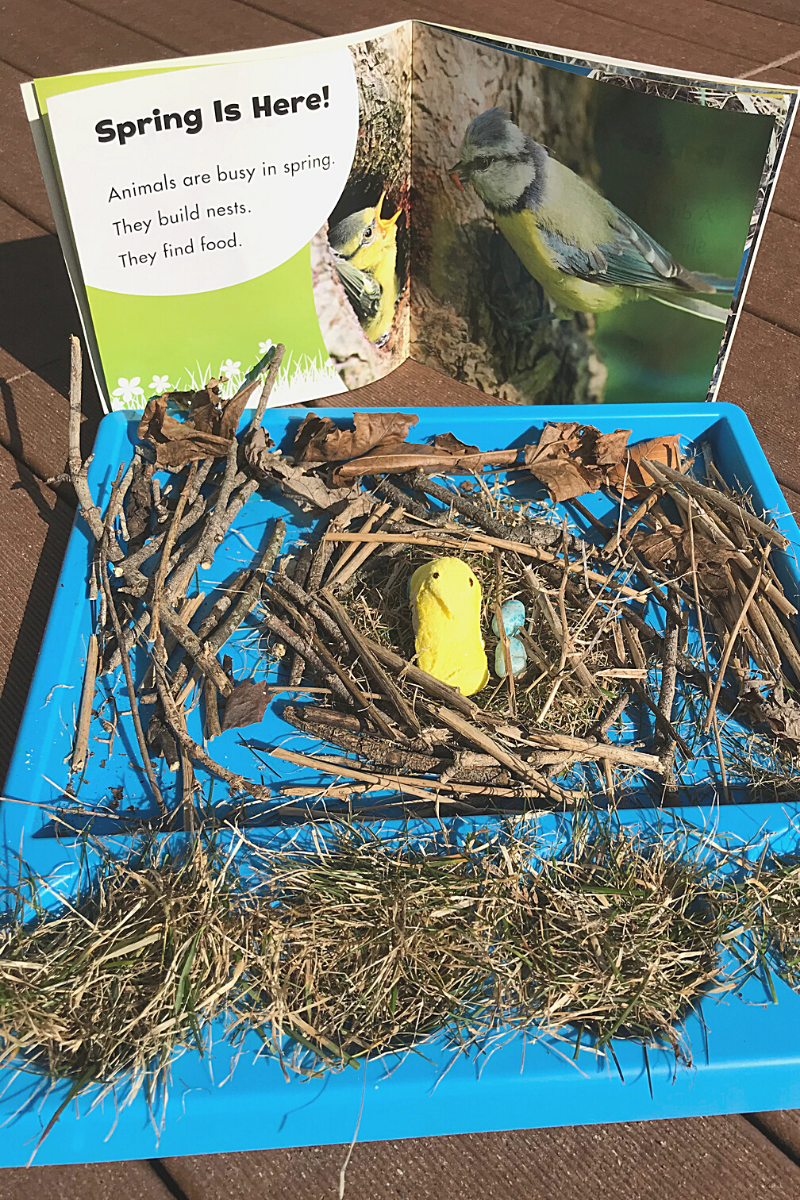 If you're also looking for some fun crafts to go along with the spring and/or Easter theme be sure to check out my Easter egg craft for kids as well!