This shark craft for kids is the perfect craft for a summer day. It is a super simple craft made for kids ages 3 and up.
This craft goes great with any ocean theme. It is the perfect shark craft for preschoolers or kindergarteners learning about under the sea-themed animals. It can also be customized to look like a baby shark craft as well.
For this craft, you will need an empty cereal or cracker box, construction paper, scissors, glue, and a box cutter.  It is a simple craft made from recycled materials and basic materials that you probably already have on hand.
For another activity that goes with an ocean theme be sure to also check out this beach-themed sensory bin.
How to make this shark craft for kids:
First, find a cardboard box of choice. Your cardboard box should be larger than the construction paper you choose.
Next, using glue or tape, cover your box with blue construction paper (or use a different color if you are wanting to make a "baby shark" themed craft). Decide if you want to cover the whole box or just the front of the box. We just covered the front of the box for our project.
Lay out a piece of paper on top of the covered box. Mark when your shark's body should start on both sides. Your shark should should cover the whole width of the box. Starting on your marks cut curved lines up to meet in the middle of your paper and make your shark's body/mouth area. Glue your shark's body down.
Cut an oval shape out of black paper that fits inside the shark's body area and glue it down. Cut out small white triangles for the teeth and glue them into the oval shape on the top and bottom to make teeth. You can choose any amount of teeth for your shark. This would be a great activity if you're working on a number of the week.
Next, cut out white circles for the eyes and glue them down right above the oval mouth. Cut out smaller black circles and glue them into the white circles to make the insides of the eyes.
Using a box cutter, cut from the bottom left of your shark's mouth all the way up around the mouth and back down to the bottom right corner of the box. This will create a mouth for the shark that can open and close.
Once you've gotten this far your shark is complete. You can add any additional embellishments that you and your child would like.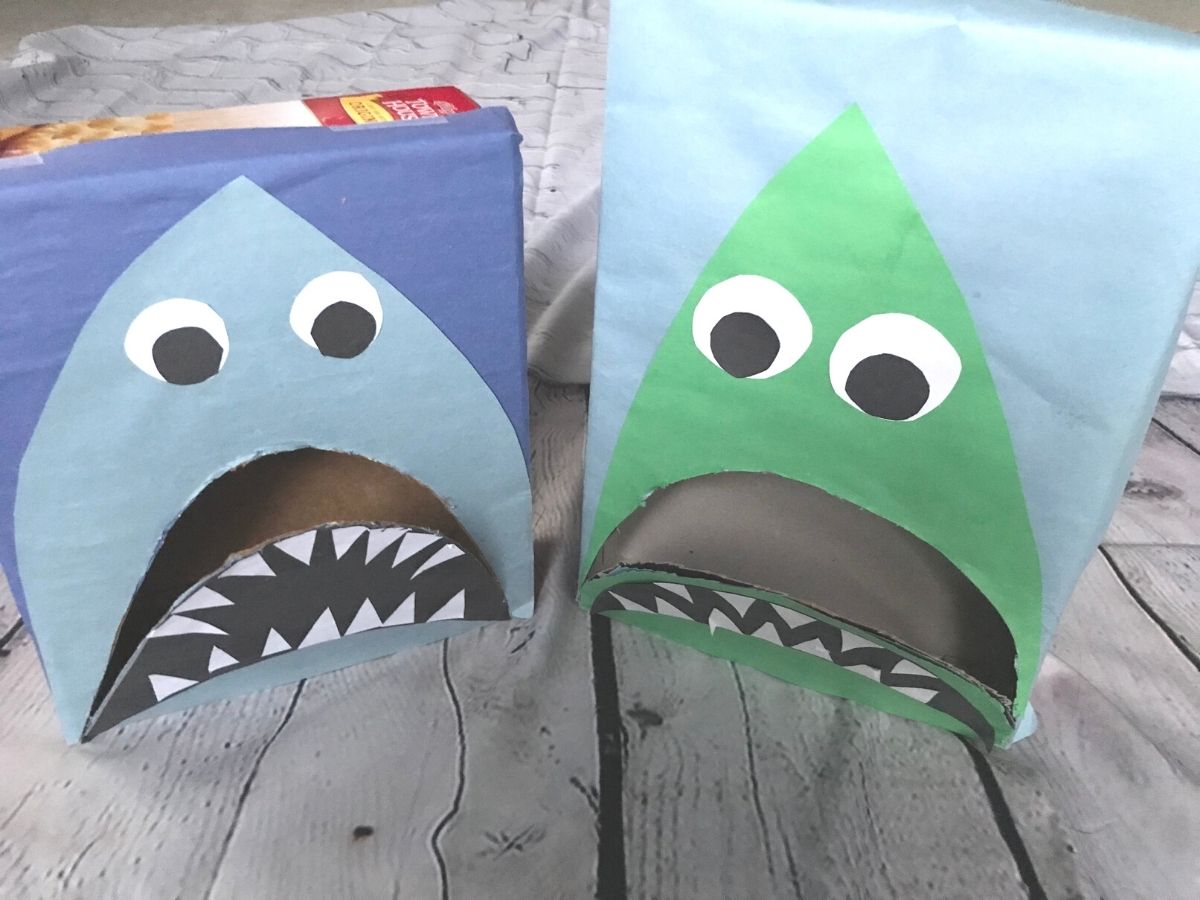 Ideas for playing with your shark craft
Your child will love the fact that you can cut the mouth open with a box cutter in the end. Then they can make their shark's mouth open and close and they can make their shark eat things. You can use it to teach food chain topics and talk about what sharks eat. You can also use it to talk and learn all about shark teeth.
Younger children can work on the words open and close and in and out. My toddler loves to stuff her shark craft with any and all objects. She loves boxes and bags and putting things in and taking them out so this is the perfect craft for her. Toddlers also love pretend play so using the shark and reenacting shark noises and movement is a great activity for this craft.
Just make sure if something goes missing you check the shark craft. My toddler was missing one of her favorite toys and it showed up a day later in her shark's mouth as she stashed it away and forgot about it!
 Materials
Empty cereal or cracker box
Construction paper
Scissors
Glue/tape
Box cutter
Activity:
 1.Wrap your box in blue construction paper (or cover the front side) using glue and/or tape.
2. Draw two curved lines up from the corners of the construction paper to make the shark's body and cut out. 
3. Glue the shark's body onto the wrapped box.
4. Draw and cut out large black moon shape to make the mouth and glue towards the bottom of the shark.
5. Cut out the desired number of small white triangles and glue them on both the top of the moon shape and the bottom of the moon shape (inside) to make the shark's teeth.
6. Cut out two white circles for the eyes. Cut out two smaller black circles for the insides of the eyes. Glue eyes onto the shark above the mouth.
7. Using a box cutter, cut from the bottom corners up and over the curve of the mouth to make the mouth open and close.