This dairy and gluten free chocolate banana bread is the most delicious, chocolatey treat. Best of all, this bread includes bananas and is gluten and dairy free so you don't feel as guilty eating the whole loaf at once.
The batter for the bread can be thrown together in as little as 10 minutes and then it is cooked to perfection. Simply mash up the bananas and throw all of the ingredients together to create this soft and moist dairy-free chocolate banana bread.
This bread would also make the most delicious chocolate banana muffins. Perfect to pull out of the freezer and heat up for a busy morning or throw in a little one's (or adult's) lunchbox.
If bananas aren't your thing be sure to also check out these zucchini chocolate chip muffins that are another great breakfast idea.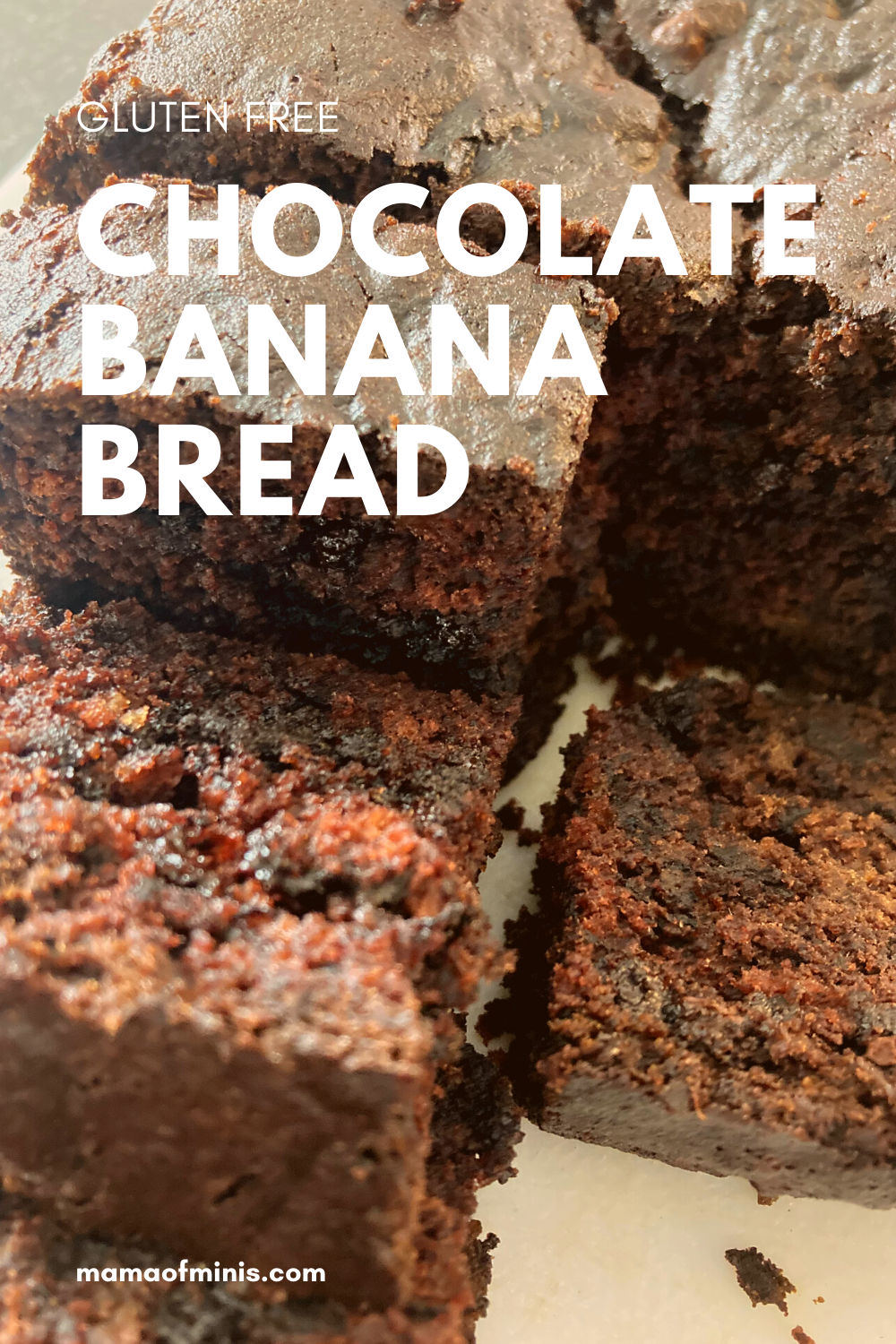 Tips for success:
*For this bread I like to use the King Arthur brand gluten-free flour. This includes xanthan gum in it. If you choose to use another brand be sure to check for xanthan gum. If it doesn't include the xanthan gum you will need to add a tsp to the flour mixture when cooking in order to get the correct bread texture. 
*Bananas that work best in banana bread are often times brown or mostly brown. This will help to sweeten your bread. Leave bananas to brown on the cupboard for a few days before making this bread. You can also speed up the process by baking them in the oven (with their skin on) for around 30 minutes before using them and letting them cool. Then mash them up.
Gluten Free Chocolate Banana Bread
Prep Time:
10 total minutes
Makes:
1 large loaf  ~ 8 slices
Ingredients
2 large ripe bananas, mashed and peeled
1/3 cup dairy-free butter, melted
3/4 cup sugar
1/8 tsp salt
1/3 cup cocoa powder
2 eggs
1 tsp vanilla extract
1 1/2 cups gluten free flour blend
1 1/2 tsp baking soda
1 cup dairy free chocolate chips
Directions:
Preheat oven to 350 degrees Fahrenheit.
Spray a 4×8″ loaf pan with cooking spray and set aside.
Peel and mash bananas in a large bowl. Add in melted butter, sugar, salt, cocoa powder, eggs, and vanilla and mix until combined.
In a separate bowl, mix together the baking soda and gluten-free flour mix. 
Combine dry ingredients with banana mixture and stir.
Add in the chocolate chips and pour into the prepared pan.
Bake in preheated oven for 55 minutes or until a toothpick inserted into the bread comes out clean. 
Slice and serve.