Playroom Organization Ideas
As a busy Mom I am always looking for how to organize a playroom on a budget. We are constantly getting new toys (first grandchildren on both sides) of all sizes and we always are looking for ways to declutter and make more space for these toys without spending a lot of money.
Read on for some of our favorite playroom must haves for organization as well as tips and tricks for keeping things looking (somewhat) neat!
This post may contain affiliate links and as an Amazon Associate as well as a member of other affiliate programs, I may earn a small compensation from qualifying purchases. All opinions and recommendations are my own. 
1. Cube Storage
We love cube storage in our house. We have it both in our basement playroom, living room, and girl's rooms. It hides all of the clutter, allows room to display certain toys, and allows for kids of young ages to be able to pull cubes in and out and find what they desire. 
You can also switch up the look easily by changing the color bins you use in your cube storage or labeling bins if desired. 
The best part is that it is inexpensive and you can purchase cube storage of many different sizes to fit any open space you have. If you purchase a small one and decide you need more you can always purchase another size to add on later!
2. Stuffed Animal Storage Solution
If you're like us and have been gifted a crazy amount of stuffed animals then you are probably looking for somewhere to put them all. This bean bag stuffed animal storage is the perfect solution for the problem.
Unzip your bean bag, stuff all of your stuffed animals in, and zip it back up. This will turn it into a stylish seating area for kids. They offer them in different sizes and styles depending on how many stuffed animals you have or need to hide.
Kids as young as 3 can then figure out how to unzip and pull out their favorite stuffed animals when it is time to play or sleep.
3. Mesh Zipper Pouches
These mesh zipper pouches are perfect for storing puzzles, games, and miscellaneous pieces. These take up way less space than big boxes and can then be fit in the cloth bins in a cube organizer.
After using our games and puzzles so often the boxes are starting to fall apart and pieces fall out. Simply cut out the image on the puzzle or game box and stuff it in one of these zipper pouches with all of the pieces. Since they are mesh you can see the image through and easily find the desired game/puzzle when looking for it.
These are also great for wooden puzzles (that are small enough) in which you don't have a good storage system and pieces constantly fall out and end up all over the house. Simply put the whole puzzle (wooden back piece and all) in one of the bags and zip it up. Keeps pieces together and helps eliminate clutter.
The best thing about these storage pouches is that they are easy to grab and go with. Simply put traveling toys in them and grab one for a car ride, play date at a friend's house, or even show and tell at school. Then bring them back home and put them back in the bin once finished!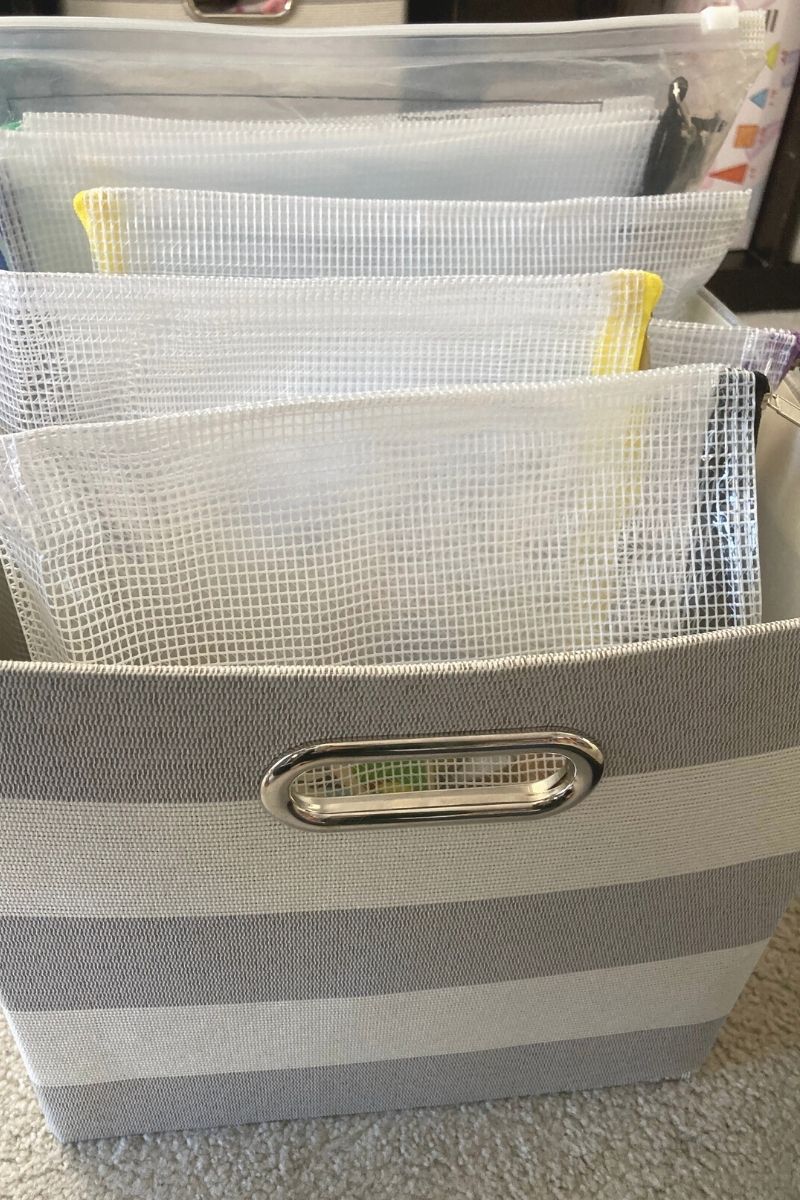 4. Toy rotation
This is an especially great tip for those who desire a minimalist playroom. Children tend to thrive in their playtime with fewer options out. Toy rotation is a lifesaver for this.
Using large totes and bins, put toys in that your kids have grown out of. Keep these big bins in the basement or storage area and rotate through them when younger kids are ready for them to be pulled back out.
You can also choose to put out a select number of toys for kids and pack some away. Then every two weeks (or desired time amount) put a few of the toys away in the bins and pull additional ones out. The toys that haven't been out for months will seem like new toys to the kids and they will be so much more engaged!
5. Storage Table
This storage table has been a great addition to our play area. It has buckets for things down below and is the perfect kid sized table for little ones. My girls love this area for eating snacks, and coloring/art projects. The bins can be used for storing anything from crayons/play-doh to cars, barbies, etc…
6. Art Cart/Station
This is art cart is one of the items I brought back from my classroom when I decided to take a break from teaching and stay home with my girls. I originally purchased it my first year of teaching so we've had it nearly 10 years now and it's held up pretty well. It works great for storing coloring books, crayons, markers, pencils, play-doh, construction paper, etc…It is a great way to organize all of your art materials so that you can find what you need when you need it. 
7. Non-Traditional Toy Box
This bin was gifted to us for our wedding and at first, we used it to store blankets. We, later on, realized we had so many toys and not enough spots for them. It quickly turned into a non-traditional toy bin but works out perfect for storing larger toys. The top comes right off and is easy enough for the kids to lift by themselves. It also looks great and works well with our decorations and styles.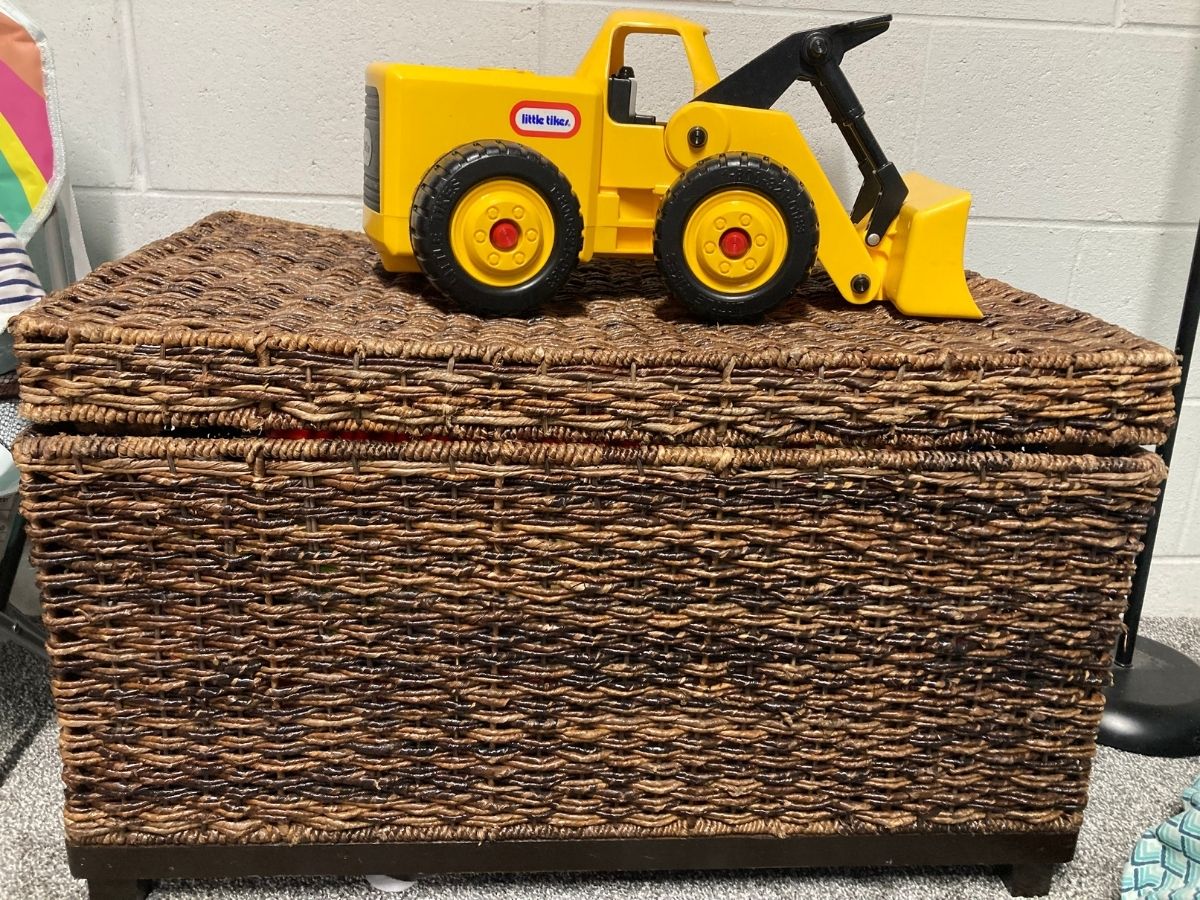 While these are my favorite organization tips and tricks for our playroom there are many other great ones out there too. If you have any other tips and tricks that you swear by be sure to comment and share your ideas! Also, be sure to check our unfinished basement playroom for more playroom inspiration.