This melted snowman craft is the perfect winter craft for kids of all ages. It can be made with toddlers, preschoolers, or grade school-age children. It makes a great project on its own or can be paired with a writing prompt for a literacy connection.
For this project, you will need to create your own DIY puffy snow paint. You will need shaving cream and glue to create this. There is a great tutorial for this snow paint over at from scratchwithmaria if you need directions on how to make it.
You will also need construction paper in multiple colors as well as a marker or pencil if writing is desired.
If you are interested in other fun snow-themed activities be sure to also check out this post on snowy day activities to do with kids. Perfect for a snow day or learning about snow and snowmen.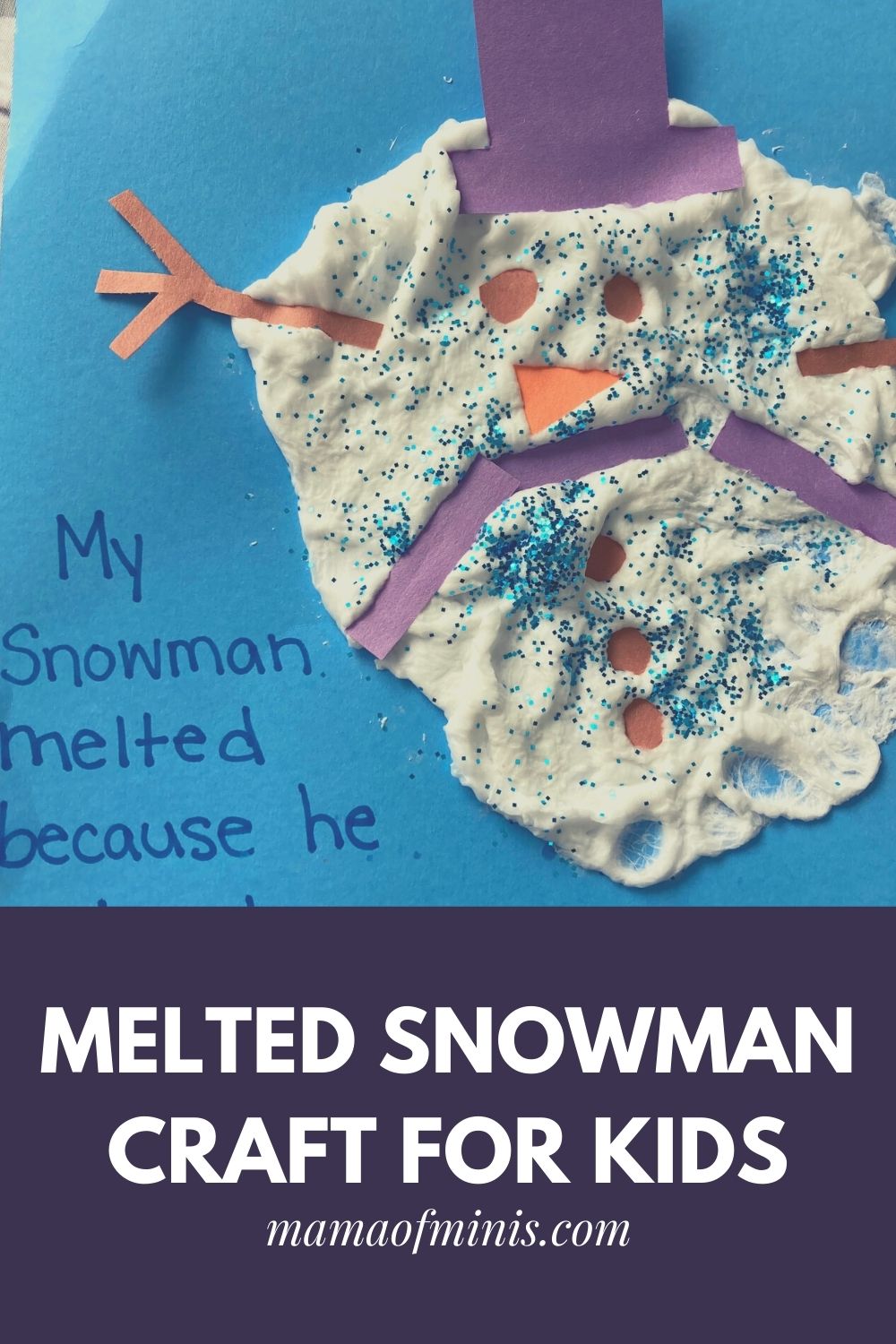 This project is the perfect project to go along with the book "Sneezy the Snowman." You can have children write and finish the prompt: "My snowman melted because" on the space left on their piece of paper. It allows them to work on their spelling/writing as well as make a connection with the book read.  
This post may contain affiliate links and as an Amazon Associate and a member of other affiliate programs, I may earn a small compensation from qualifying purchases. All opinions and recommendations are my own. 
Tips for Success
*We began our project with a paint brush but found that it wasn't working quite right. Our snow paint ended up coming out very sticky after trying a few times (we must've used the wrong type of shaving cream) but we were able to make due as it was almost slime-like and you could pick it right up and mold it right on top of the paper.
*When creating this project with younger children it helps to have the snowman accessories picked out ahead of time. This includes buttons, hats, scarves, eyes, carrot noses, and pieces for the mouth. Then when they are ready to create their snowman they can simply place them on top of the wet snow paint.
*With older children, they have the freedom to be more independent. They can draw and cut out pieces for the snowmen on their own so that each snowman is unique and special. 
Melted Snowman Craft for Kids
Materials
Snow paint (directions found here)

Shaving cream
Liquid glue

Paintbrush
Glitter
Blue construction paper
Construction paper in other various colors
Pen/pencil
Directions:
Begin by drawing and cutting out a small orange construction paper triangle for the nose, five small brown or black circles for eyes and buttons, and two brown stick arms. Set aside.
Draw and cut out a hat and rectangular pieces of colored paper of choice for the snowman's scarf and set aside. 
Make snow paint by mixing shaving cream and glue together.
Using a paintbrush, paint a large amount of the snow paint onto a full-sized sheet of blue construction paper. Be sure to stay towards the middle of the paper.               *If the paint is too sticky use hands to push it onto the paper.
Do not let dry.
Sprinkle glitter on top of the wet snow paint. 
Place set aside nose, eyes, buttons, scarf, arms, and hat on the wet snow paint in places of choice to create the melted snowman.
If making with older age children and desired, write the prompt: "My snowman melted because… and have children fill in the prompt.