This symmetry butterfly craft is the perfect butterfly craft for preschoolers, kindergartners, and up. It teaches the beginning concepts of symmetry and uses simple craft supplies found around the home to make the most beautiful painted butterfly craft.
For this craft, you will need cardstock, different colors of paint, and a paintbrush. For this project we drew and cut our own butterfly template on white cardstock. You can also print and cut out a butterfly template like this butterfly template if you're looking for one to use.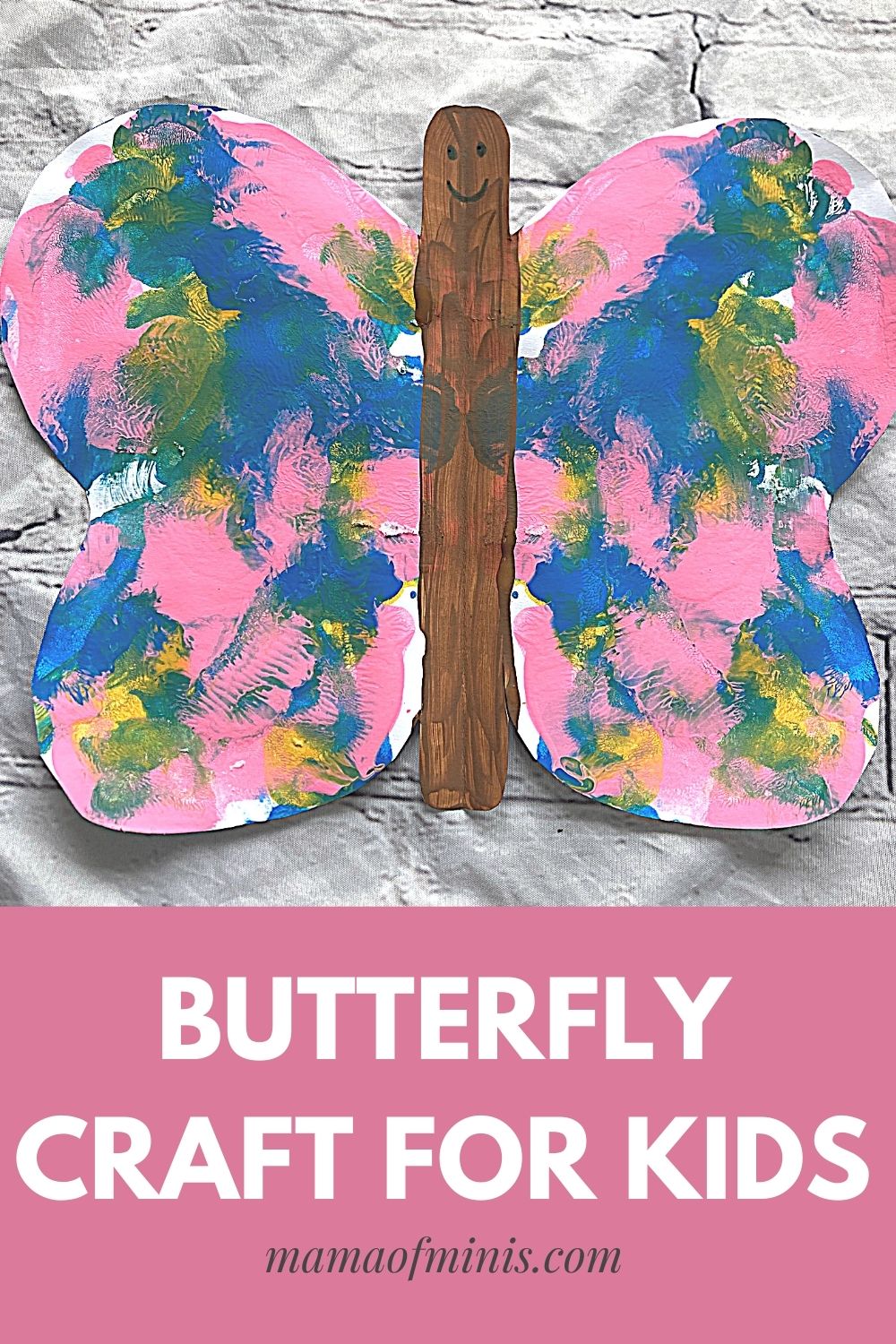 Tips for success
*Colors that complement each other or mix well to create other colors work best for the wings on this butterfly. We used yellow, blue, and pink but there are many different color combinations that would work great for this project. You may just have to explore.
*For younger children you may want to squirt the paint onto the paper for them so that the paint doesn't pool too much. Then they can use a paint brush and swirl it all around before pressing the wings together.
*For older children you can have them squirt the paint directly onto the paper and skip the paintbrush part if desired. Then they can rub the pieces of paper together after shutting the wings to create the designs. Both ways of completing the project look equally great.
*We completed this project by both cutting out the butterfly template first and also by keeping it on the background paper. We found cutting it out after applying the paint and letting it dry was much less messy and worked better. However, you can do it either way if desired. 
Symmetry Butterfly Craft for Kids
1. Draw or print out a butterfly template on white cardstock. Do not cut out yet. Fold in half down the center of the butterfly and open back up. 
2. Have children squirt paint (or help them squirt paint) directly onto one side of the butterfly template. Do not let paint pool in large puddles. 
3. Use a paintbrush to spread the paint around a little bit if desired.
4. Fold the butterfly back in half and rub the two sides of the paper together a small amount.
5. Open the butterfly up and see if there are large spots without paint covering. If so, squirt paint directly onto these spots, close wings back up, and rub together again. 
6. Let dry.
7. Paint down the middle part of the butterfly (the body) with brown paint and let it dry. Draw a face on with a black marker if desired. 
This craft works great when doing a unit on bugs or learning about things that you see in spring. For another fun spring craft be sure to also check out this bird's nest craft for kids.