This Thanksgiving sensory bin is the perfect fall or harvest-themed sensory activity for young children. It uses super simple items and takes only a few minutes to throw together.
To make this feed the turkey sensory bin you will need to follow the directions and create a recycled bottle turkey and use a corn base. You will end up with to a fun sensory bin in which little ones can feed an adorable Thanksgiving turkey.
This post may contain affiliate links and as an Amazon Associate and a member of other affiliate programs, I may earn a small compensation from qualifying purchases. All opinions and recommendations are my own.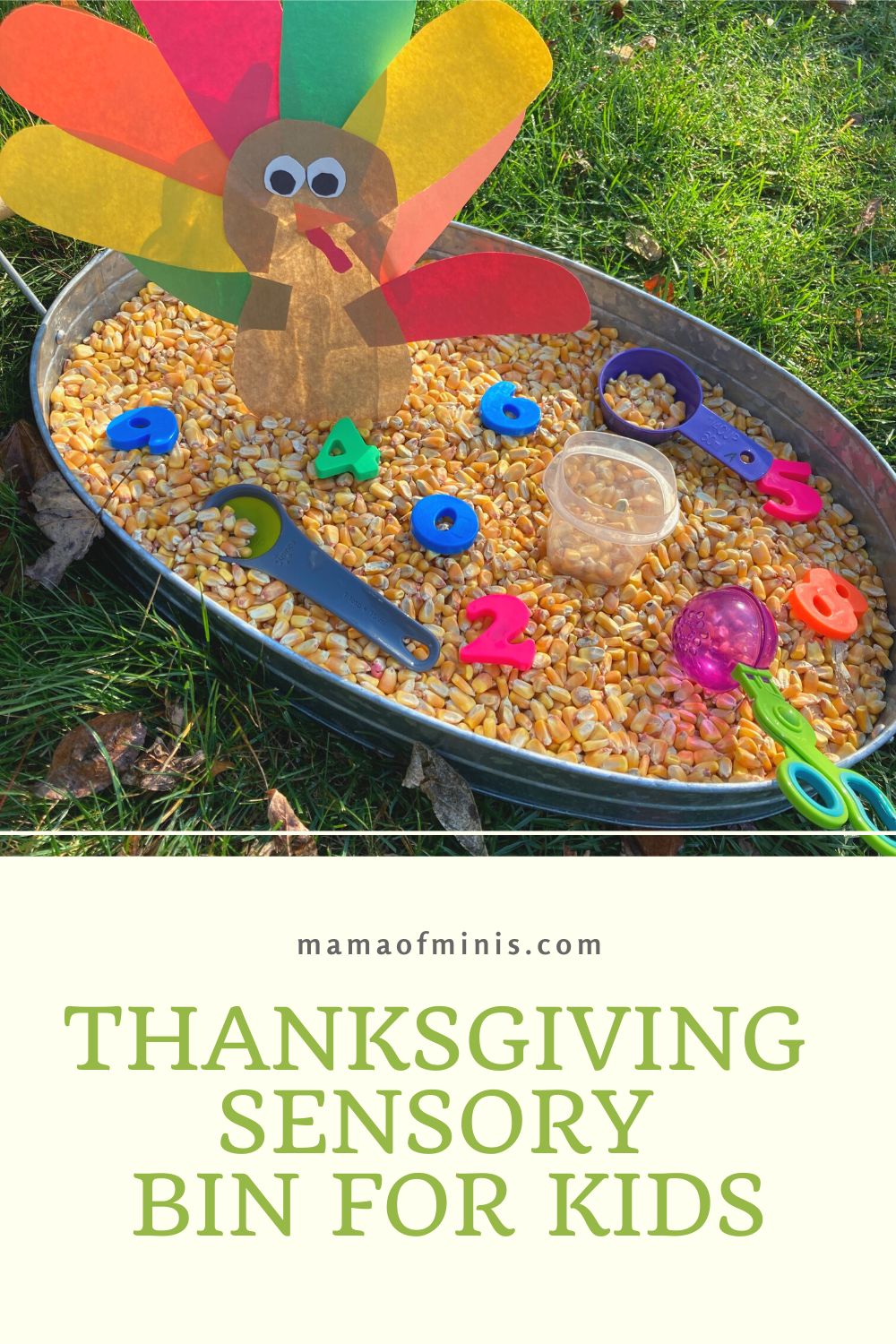 The best part about this bin is it can also be a great thanksgiving themed sensory literacy activity. It connects to quite a few different Thanksgiving-themed books for kids. A few of our favorites include "Turkey Trouble" and "There was an Old Lady who Swallowed a Turkey."
For another fun, Thanksgiving themed activity be sure to also check out these Turkey Puppet Crafts for kids. They make great play toys and are perfect for little ones to make, create, and play with!
Tips for success
*The base of this turkey sensory bin is dried corn. This can be picked up at any local store that supplies items for Farms, and many different hardware stores such as Fleet Farm, Menards, and more. It can be bought in bulk, is super inexpensive, and is a great item for a sensory bin base.
*This Thanksgiving sensory activity makes a great math-themed sensory bin as well. It can be used for practice with counting and 1-1 correspondence for toddlers, preschoolers, and kindergartners. Add magnetic letters and have little ones choose a number. They can then count out that many scoops of corn and feed the turkey the matching number.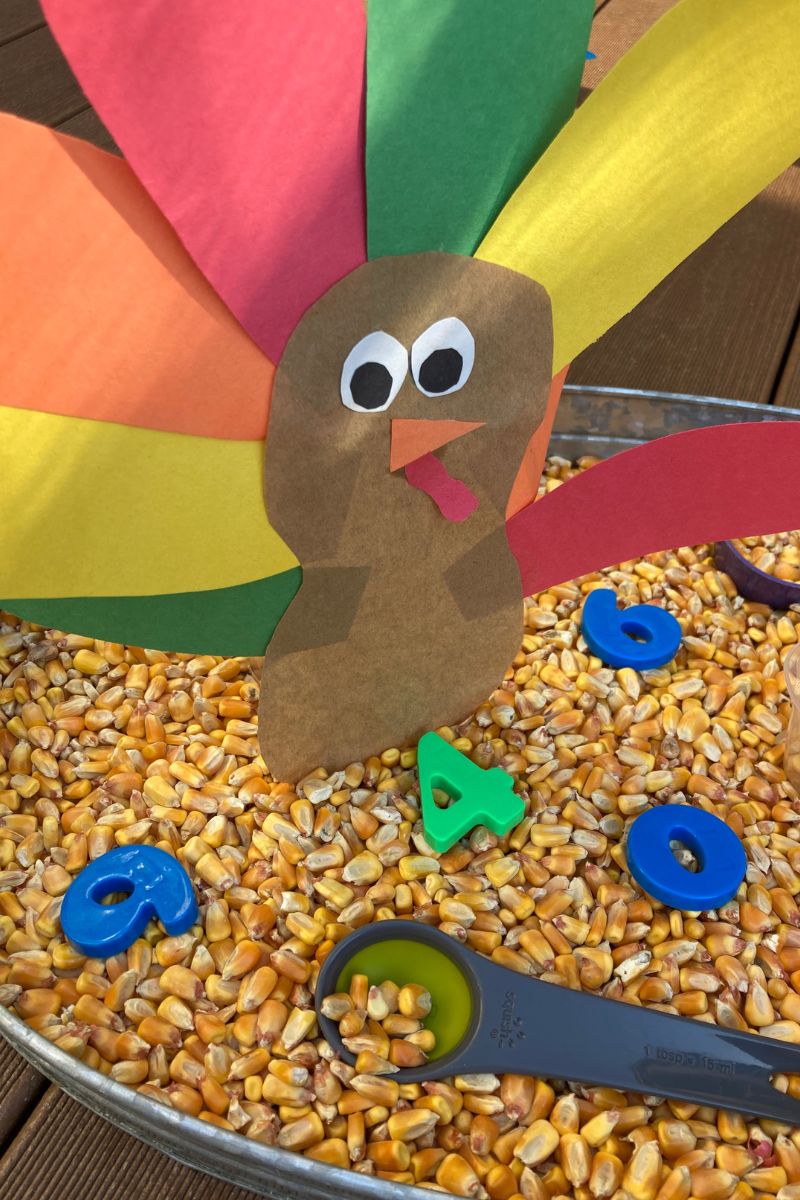 Feed the Turkey Jar Craft Directions
*To create the turkey for this craft you will need a glass jar and construction paper, as well as tape or glue. Simply cut out a foot-shaped piece of paper (I like to use a shoe as a tracer), cut out feather-shaped pieces (6-10 feathers), glue them to the back of the foot and add a triangle beak and eyes. Glue or tape your finished object to a bottle.
*When you create your turkey and glue it to a bottle, pick out a bottle with the correct size opening for your desired age group. For smaller children, you can use a bottle or jar with a larger opening like a peanut butter jar. For older children preschool or kindergarten age you can use a smaller opening to help with their motor skills. We used a large spice container but a water bottle would be a great item for this.
Feed the Turkey Thanksgiving Sensory Bin
Materials
Corn sensory base
Scoops, shovels, scoops, measuring cups, etc…
Glass or plastic bottle
Turkey made from construction paper
Sensory bin or plastic bucket
Directions
1. Cut out or create a turkey to be glued onto a glass or plastic bottle (See notes above).
2. Add corn to a sensory bin of choice. We like to use a metal beverage tray but you can use whatever is available (even a plastic tub or bucket works great).
3. Add plastic magnetic numbers to the top of the corn and sprinkle them all around.
4. Add scoops, spoons, shovels, containers, and miscellaneous sensory play items to the bin.
5. Allow little ones to scoop, count, play, pour, and feed the turkey.