This tutorial will show you how to make oobleck for sensory play. This activity is great for children of all ages. You're never too old to play with Oobleck slime!
This activity uses just two to three simple ingredients. It can be set up in a lot of different ways and can be used in many different themed sensory bins. It is a great activity to do outdoors as it can be a bit messy but can also be done indoors in a large bin or tub as well.
The best part about this activity is that you probably have all the materials at home already and you can make it any color to match any theme or child's favorite. You can use scoops, buckets, shovels, spoons, and any plastic toys or items while playing in it and they will wash right off when finished.
For another fun, sensory bin idea be sure to check out this bubble foam. It is great for playing outside or even comparing to the Oobleck.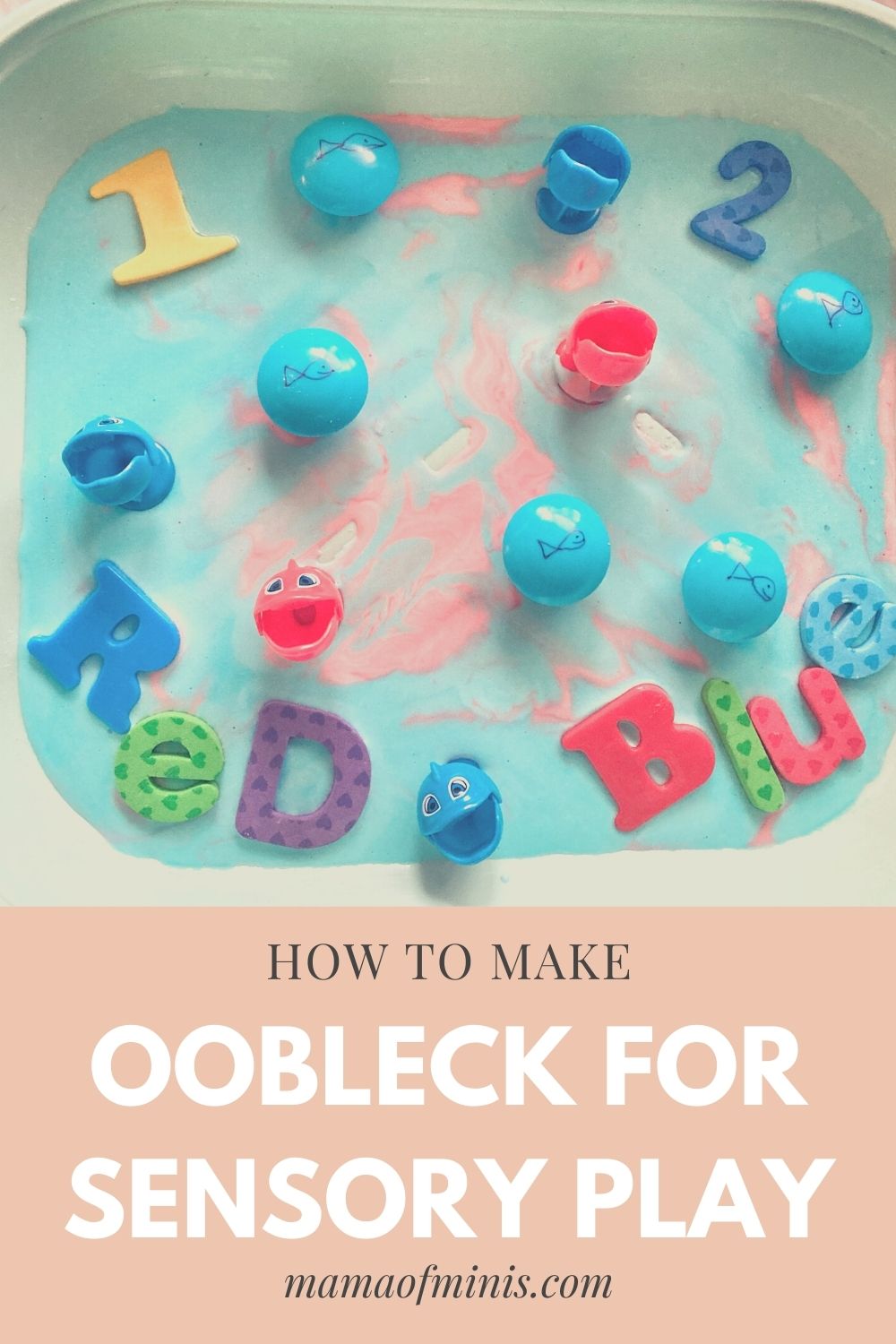 This post may contain affiliate links and as an Amazon Associate and a member of other affiliate programs, I may earn a small compensation from qualifying purchases. All opinions and recommendations are my own.
Oobleck STEM Activity
One fun way to use Oobleck is to use it as a STEM activity for kids. You can talk about solids and liquids and compare and contrast the two. You can also have children make predictions about what will happen when you mix the two items together.
If you are looking for a fun Oobleck science activity to do with students in a classroom you can check out this recording sheet over at teacherspayteachers that can be done while making Oobleck as a class.
Oobleck Literacy Activity
You can also connect the making of Oobleck with literacy by reading the book "Bartholomew and the Oobleck" written by Dr. Seuss and having the children make the Oobleck once finished reading. Make it green to match and create a fun literacy-themed learning experience.
Oobleck Sensory Bin
You can also create an Oobleck sensory bin for children. This is perfect for younger children who just want to play and explore. You can either have children help you make and mix up the Oobleck as this is part of the fun or you can do this part ahead of time on your own.
Choose a color to dye the Oobleck and mix it in. You could use blue to create an ocean sensory bin, swirl colors together for a rainbow-themed sensory bin, use green to create grass in a sensory bin, and more.
Then simply add in plastic toys (IE shells/plastic fish/plastic water animals for a beach theme, different colored rainbow objects/unicorns/etc for a rainbow theme, etc…), scoops, cups, spoons, and more and allow children to play and explore. 
*If doing this inside I would recommend mixing Oobleck in a bucket with taller sides. This way it won't spill out. Put a tarp or plastic swimming pool underneath the bucket of Oobleck when allowing children to play with it to help minimize the mess.
We mixed red and blue oobleck for a "One Fish Two Fish Red Fish Blue Fish" themed sensory bin. We added in plastic fish toys, plastic numbers and letters, and scoops/bowls. Then allowed children time to play and explore the Oobleck. They used their hands, spoons, scoops, to feel all of the different textures and learned about color mixing when the red and blue eventually combined to make purple. 
How To Make Oobleck for Sensory Play
 Materials
Large mixing bowl/plastic bin or tub
 Spoons
Cups
Water
Cornstarch
Food coloring
Misc plastic items or materials for additional sensory play (optional)
Activity:
Add 2 parts cornstarch, 1 part water, and 3-6 drops of food coloring in the desired color to a large mixing bowl.
Mix together with a spoon or hands until the color is mixed through and the powder goes away. 
Pour into a large plastic bin and add spoons, scoops, cups, etc…
Add in any additional plastic objects like animals, letters, numbers, etc…
Allow children to play and explore.