This delicious gluten-free french toast casserole is the perfect easy breakfast for a special occasion (or any day!). It is an easy breakfast to throw together the night before and pop in the oven when you wake up. It is gluten and dairy-free and so delicious.
For this recipe, you can sub in any additional add-ins if you aren't a blueberry fan. Or omit them if you want a more traditional french toast taste. It tastes great as a blueberry french toast bake, strawberry french toast bake, or even chocolate chip french toast bake.
When this gluten and dairy-free french toast casserole is ready, it tastes great on its own, topped with syrup, or topped with dairy-free cream and additional blueberries (or other add-ins). It can be made in so many different combinations yet it is amazing every which way!
Tips for Success
*This recipe works best if you let the bread sit in the egg mixture overnight. This will help it to soak up as much of the mixture as possible and prevents it from getting dried out. 
*You are able to use a number of different add-ins instead of the blueberries. This recipe tastes great with strawberries, raspberries, dairy-free chocolate chips, or pecans, and more. It also tastes great as is, with no add-ins. 
*When cooking, cook for around 50 minutes at 350 degrees. Start checking to see if the top is browned and the inside is cooked through. Ovens tend to vary a bit so you may find it is looking done around 45 minutes. You may also find your oven takes a little bit longer and doesn't finish for closer to an hour. 
*If there are leftovers simply heat them up in the oven at 350 degrees for 10-15 minutes. The microwave for 60 seconds works as well but it changes the texture a bit. 
Gluten Free French Toast Casserole
Prep Time:
15 total minutes
Cook Time: 50 Minutes
Chill Time:  Overnight
Casserole Base Ingredients:
1 15oz loaf gluten-free bread (we like to use honey oat bread)
5 eggs
1 1/2 cups almond milk
1/2 cup maple syrup
1/2 tsp cinnamon
1 tsp vanilla extract
1/2 cup fresh blueberries
Streusel Topping Ingredients:
1/2 cup 1-1 gluten-free flour
1/2 cup brown sugar
1/2 cup oats
1 tsp cinnamon
1/2 cup (1 stick) dairy-free butter (Country Crock plant butter is our favorite)
Directions:
Cut loaf of gluten-free bread into small bite-size pieces and put in a mixing bowl.
In a separate mixing bowl, add the eggs, almond milk, maple syrup, cinnamon, and vanilla and mix together.
Pour the egg mixture over top of the bread pieces. Stir until bread is covered.
Push bread down in the bowl so as much of it as possible is sitting in the egg mixture. Cover and refrigerate overnight.
Preheat oven to 350 degrees.
Spray a 9x13in pan with cooking spray.
Pour 1/2 of the bread and egg mixture into the pan. Sprinkle with 1/4 cup of blueberries (or other add-in of choice). Pour the remaining bread and egg mixture on top. Sprinkle remaining 1/4 cup of blueberries (or additional add-in) on top. Set aside
In a small bowl, stir together the gluten-free flour, brown sugar, oats, cinnamon, and melted dairy-free butter to make the streusel.
Sprinkle the streusel on top of the french toast bake.
Cook french toast bake for 50 minutes or until the top is golden brown.
Remove from oven and let cool, cut into pieces and serve with syrup or dairy-free cream and additional blueberries.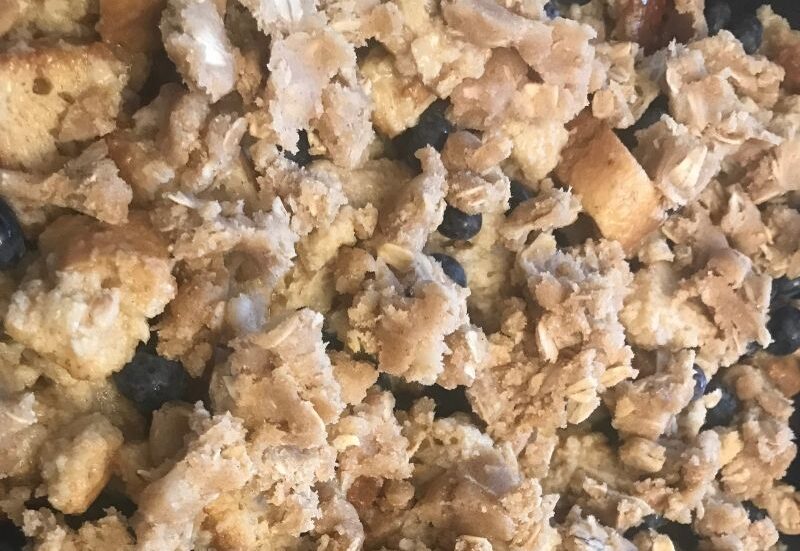 At our house, we love to make this casserole for many holidays. Our favorite time, however, is Mother's Day. Fresh blueberries are in stock and it is the perfect easy recipe to make and bake for a breakfast in bed. For other Mother's Day ideas check out this fun Mommy and me spa day. Combine this gluten-free french toast bake with the spa and you have the perfect Mother's Day!