These dairy and gluten free chocolate chip potato chip cookies are the perfect mix of sweet and salty with an added crunch. They are loaded with crunchy crushed potato chips and dairy free chocolate chips and are so delicious!
The batter can be thrown together in about 10 minutes total. They can be put in the refrigerator for a more rounded, full cookie or baked right away for a more flat and crunchy cookie. 
All of the ingredients in these cookies are both gluten and dairy-free so they are the perfect cookie for those with food allergies and intolerances. They are also a great treat to make with kids. Kids will love crunching up all of the potato chips (it is not very often they get to crunch things up into little pieces) and helping pour and mix ingredients.
If you are looking for other sweet gluten and dairy free cookies be sure to also check out my gluten and dairy-free peanut butter blossom cookies. 
Tips for success:
*For these cookies, I used King Arthur Brand of gluten-free flour. This brand comes with added xanthan gum included. If your brand doesn't include xanthan gum you will need to add 1 tsp to the dry ingredients.
*Country Crock Plant Butter is our favorite dairy-free butter to make baked goods with. It is similar in texture and taste to real butter and we can never tell the difference when baking with it. Bonus: it tends to be similar in price to the real butter that you can find in the stores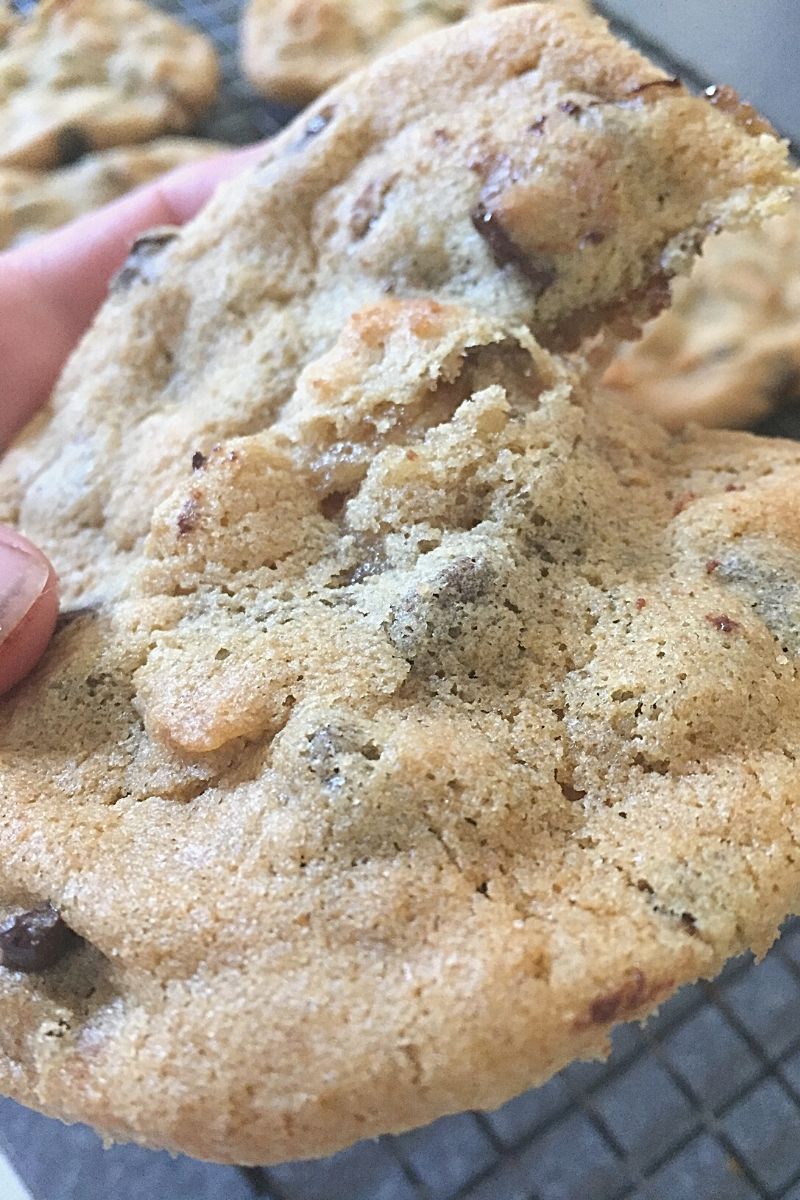 *After making the dough you can throw it in the fridge for 30 minutes. This will help your cookies to be softer in the middle. You can also choose to pop them in the oven right away (which is how we always make them as we never plan ahead and can't wait to eat them) after finishing the dough.
*Double a batch of these cookies and throw half of the batch into a cookie keeper in the freezer. Then whenever you feel like cookies, preheat your oven and put a few of them on a tray. Bake for the normal amount of time. The perfect way to help yourself with portion control (so you don't eat a whole tray of cookies on your own) or to have homemade cookies on a busy night.
*You can use any kind of plain potato chips for these cookies. You will need to crush the potato chips but be sure not to crush them too fine or into a powder. Try to keep some pieces that are a little big larger (around the size of a chocolate chip) so that your cookies have some crunch to them
*Baked cookies can be stored in an airtight container on the counter (if you are able to save any!).
Gluten Free Chocolate Chip Potato Chip Cookies
Prep Time:
10 total minutes
Ingredients
1/2 cup (1 stick) dairy-free butter
1/2 cup packed brown sugar
1/2 cup granulated sugar
1 egg
1 tsp vanilla
1 1/4 cup gluten-free flour
1 tsp baking soda
1/2 tsp salt
1 cup potato chips
1 cup dairy free chocolate chips
Directions:
Preheat oven to 375 degrees Fahrenheit.
Put potato chips into a bag and crush them by hand into small pieces. Set aside.
Cream sugar, brown sugar, and dairy-free butter together in a bowl. Mix with an electric mixer on medium speed until smooth.
Add in egg and vanilla and mix on medium speed until combined.
In a separate bowl combine gluten-free flour, baking soda, and salt and stir together.
Add flour mixture to the wet ingredients stirring slowly until a dough forms.
Stir in dairy-free chocolate chips and potato chips.
Roll dough into 1 in balls and place balls onto a cookie sheet about 2 inches apart.
Bake in oven 9-11 minutes or until the cookies start to turn golden brown
Remove cookies from the oven and let cool.