This paper plate dinosaur craft is super simple to throw together and is a great way to practice shape recognition. It is the perfect dinosaur craft for toddlers, preschoolers, kindergartners, and up and the majority of the materials can be found around the home.
For this shape recognition craft, you will need a paper plate, construction paper, scissors, a glue stick, and paint in desired colors. You will need to prep the construction paper shapes ahead of time if working with younger children.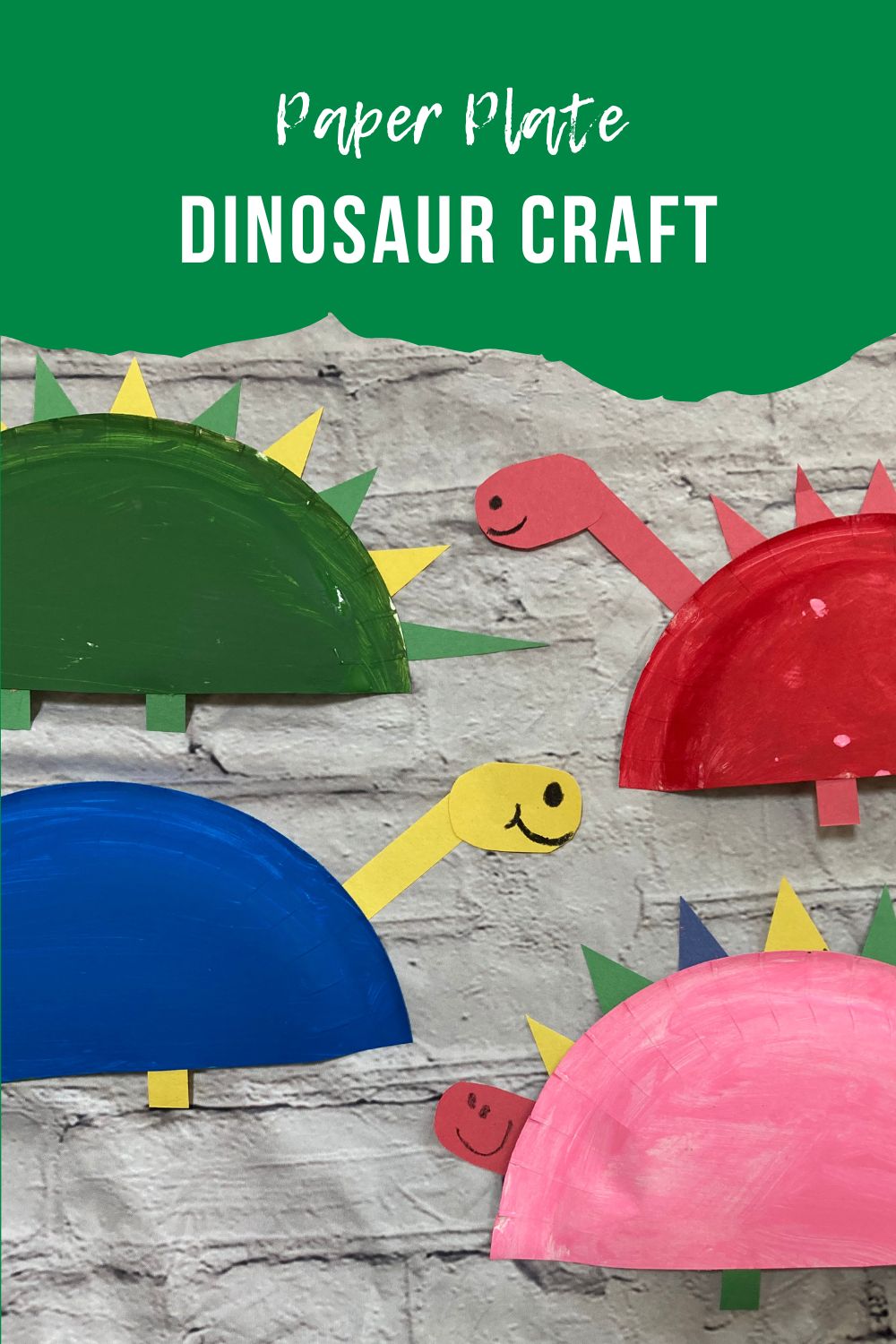 Tips for success
*Prep the construction paper shapes ahead of time by cutting out triangles (smaller ones for the spikes and longer ones for the tails), ovals (for the head), and rectangles (smaller ones for the feet and much longer ones for the neck).
*Have little ones count the number of triangles, rectangles, and ovals on their dinosaur when finished. This way they are able to practice counting and 1-1 correspondence as well.
*Cut out shapes in all different colors. This will allow children to choose which colors they want. You can make dinosaurs be all one color (great for color recognition), have spikes glued down in a pattern, or allow them to choose to put their dinosaur together any way desired.
Paper Plate Dinosaur Craft – Shape Recognition dinosaurs
1. Prep construction paper shapes by cutting out ovals, small and larger triangles, and small and larger rectangles from colored construction paper. See the photo above to see rough sizes.
2. Cut a paper plate in half. Flip it over and paint the back of the plate all one color. Let dry.
3. Put glue all along the outer edge of the inside of the plate.
4. Attach the desired different pieces on to the dinosaur. Begin by sticking the tail on near the bottom. If desired, add on spikes all around the top of the outer edge. Add the neck (if desired) and head.
5. On the inside of the plate add two glue spots and glue the dinosaur's legs sticking off of the bottom of the plate.
6. Draw on an eye and mouth.