Tips to Survive a Toddler and Newborn
As a second time Mom you will have an excellent background when it comes to having more babies. You've already done the newborn thing once and know what to expect for postpartum, as well as the first few years.
However, having a second baby things change a lot. This is because you now have a crazy toddler running around the house (depending on your little one's age gaps).
As a Mom of three (all two years apart) I have some tried and true tips and tricks that helped me to get through the transition from one to two children easier. These also work great when going from two to three (or even more).
As always, these things have worked great for me but may not work as well for you in your time of life. Also, keep in mind that all children are different and what worked for one child may not work as well for baby number two or three. Try some out and see what works best for you.
If you have any additional tips to share feel free to comment below. Otherwise, read on to see what worked best for us when going from one to two children. Also, be sure to check out this great list of items to buy for a second baby.
As you are reading click on any of the photos for more information. This post may contain affiliate links and as an Amazon Associate as well as a member of other affiliate programs, I may earn a small compensation from qualifying purchases. All opinions and recommendations are my own.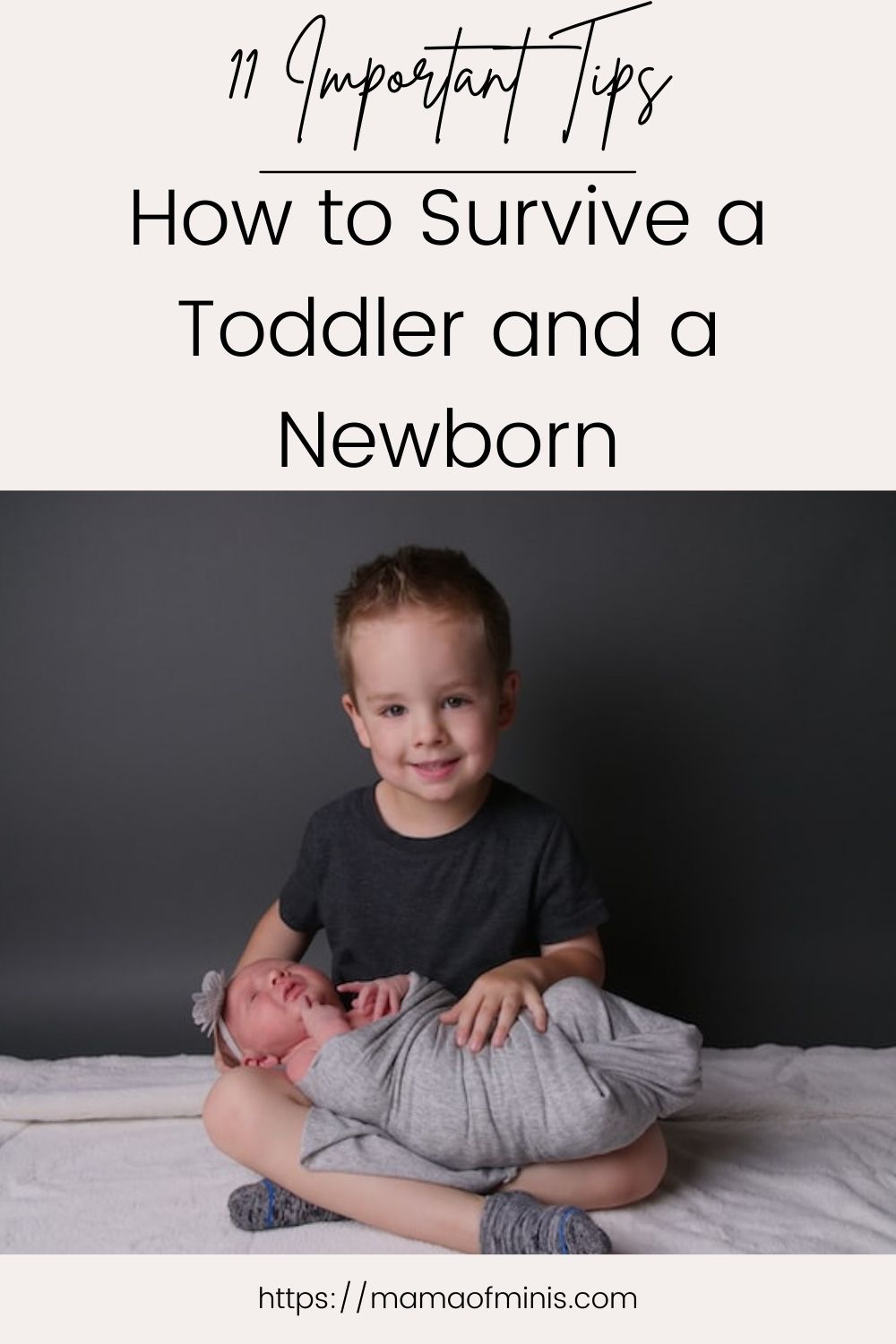 1. Prep your Toddler Ahead of Time for their New Sibling to Come Home
A new sibling is a big transition for a toddler. They go from getting all of the attention to splitting the attention. This is a tough time for them and their little brains and bodies are working hard to understand the transition.
Things we tried when prepping our little ones included having the new baby buy our toddler a present, having our toddler pick out a gift for baby, reading books on becoming a big sibling, and practicing on a baby doll or toy.
We also tried to keep other big transitions like a new bed, getting rid of a paci, and potty training for either before or after the sibling came and not trying to overwhelm them with the skills of learning something new during this transition time as well. 
2. Invest in a Good Baby Carrier
This is probably the thing that helped me survive this crazy phase of newborn and toddler the most. A good baby carrier is key. This way you are hands-free when chasing after your toddler. You can still have the baby nap, feed, hang out in the carrier, and even still get baby snuggles this way.
It makes chasing after your toddler 1000x easier. We would plan our day out and about and bring this along every time. Baby would nap in here while we chased the toddler at the park, the zoo, or even around the house while making dinner.
Bonus if your baby carrier comes with a fold-over flap to keep the baby from getting too much sun or to keep the sun out while sleeping. Our favorite carrier is the Ergo one as it supports your back and is very comfortable for both Mom and Baby.
We also loved the Lalabu Baby Soothe Shirt when our youngest was small. It is a carrier, breastfeeding shirt, and cute shirt for everyday wear all in one.
3. Create a Special Bin of New Toys Only for Use During Baby's Feeds
This was actually gifted to us from someone else and now it is a gift we bring to anyone who has just had a second baby.
If you create a special bin of new toys for when Baby is begin fed and only bring it out then it will have a novelty effect. Your toddler is more likely to let you focus on feeding the baby and play more independently. They will be more excited about these toys and enjoy the time they get to play with new things.
This bin doesn't have to be expensive or fancy. Some ideas for items that can go in a bin like this include new coloring books and crayons, plastic tubes of animals, a new baby doll and bottle for their baby, Block building sets, and more.
4. Hand's Free Pump
While my insurance didn't pay for a hand's free portable pump I splurged a little and purchased a great knock-off portable pump. This one worked great for me as it allowed me to be hands-free and pump.
I could do this while washing dishes, cooking dinner, or even driving in the car to go places. I could also pump while chasing after my toddler (as long as I didn't bend over too far and let milk spill). It was an amazing lifesaver when it came to saving time and chasing a toddler!
5. Create a "Baby Area Only" in Every Room
While chasing a toddler around you may find you are constantly going from room to room. I found it easiest to put some sort of baby area in every room. This might mean a baby swing, portable baby play yard, baby bouncer, dock-a-tot, baby play mat, boppy pillow, or even a simple blanket on the floor.
It is great to always have a place you can quickly and safely put the baby down when needed. If you plan it out ahead of time you will know just where to put your infant when your toddler starts yelling, needs help or assistance, or simply wants some snuggles. 
6. Utilize Baby Gates
When our baby was born our toddler was very curious of the baby. She loved her baby sister so much and always wanted to be near her. This was great except she was still working on using gentle hands and not picking up the baby without asking.
We needed to create a safe space for our baby in case we had to tend to something not toddler-related (or even for when we needed to use the restroom, grab a snack for the toddler, etc…). This way our toddler didn't try to pick up or grab the baby while we disappeared for a few short seconds.
We used moveable baby gates for this in one room. We would put our baby in her infant play dome or swing surrounded by baby gates so that only a grown-up or adult could get to the baby. 
7. Utilize Help If You Have It
When our second and third came along it was so awesome to have a little extra help. My mother and mother-in-law would take turns coming over for a few hours and occupying the toddler. This would give me time to snuggle the baby and relax, shower, or even nap if needed. It was a lifesaver. 
We also had friends who would take our toddler for a play date and who set up a meal train for us. This was a huge help as we didn't have nearly as much time to prepare and make freezer crockpot meals as we did when we were expecting our first.
8. Designated Toddler Time
After our baby came you could tell our toddler was craving attention. We carved at least 20 minutes out of our day to spend with just our toddler. This may have to be done while the baby is napping, or with another parent if necessary.
The sole purpose of this time should be spending one on one time with your toddler only doing what they want to do and making them feel loved and happy. It could be a game, a park, coloring together, snuggling, reading, or anything else your toddler desires.
If you can only squeeze in five minutes that is great too. Do as much of this time as possible as this makes a huge difference. Make it a big deal and your toddler will love it.
9. Allow your Toddler to "Help"
Toddlers love to be included. Have them help get wipes and diapers when changing baby, have them help hold the bottle when feeding baby, allow them to watch what you are doing and get curious, and have them tag team and take care of their baby doll alongside you.
They could pick our baby's outfits, hold the baby (with assistance), and get baby toys or blankets. They can lay along them during tummy time and whole them how to lift their head and rollover.
Your little one will love being included in helping baby brother and sister and it will help start creating a bond between them and baby at an early age.
10. Always Plan to leave 15 Minutes Earlier then you Really Need to Leave
The more kids we added to our crew, the later we seemed to be everywhere. This is because it would take us forever to actually get out of the house with everything we needed.
This tip saved me countless times from being late. If I always planned on leaving 15 minutes before I really needed to leave the house in order to be on time, chances are I would get there when I needed to.
If I planned to leave early and really got out of the house early I could always hang out in the car with my little ones, feed a baby, let the little ones eat snacks, or play outside where we were heading before doing what I aimed to.
11. Invest in a Great Double Stroller or Stroller Wagon and Walk
This one isn't a necessity as you can still get around great with a single stroller but our double stroller saved us time and time again. There were so many times our toddler wanted to ride and the baby was in the stroller. This is why we loved our double stroller.
We used a simple one with both a spot for an infant car seat as well as one for a toddler when our infant was young. Then we switched to a BOB double when they got a little older as it was way easier to push and manuever.
When one or the other was cranky we would load up both and go for a walk. The fresh air would usually turn our day around and they were both in one place and weren't running around.
When we introduced our third to the mix we splurged and invested in the Wonderfold Wagon and never looked back. It has amazing storage, can be converted to a bassinet on wheels (which was awesome for when the big kids played at the park), and could fit all of our kids. It made getting out of the house for the zoo, park, or even grocery shopping so much easier with multiple little ones.